New EEO-1 and I-9 flexibility deadlines for employers
Posted April 9, 2021
Employers need to be aware of two pandemic-related deadline changes, one on the EEO-1 report and the other on Form I-9 flexibility.
EEO-1
After delaying the opening of the 2019 EEO-1 data collection because of the COVID-19 pandemic, the EEOC announced that the 2019 and 2020 EEO-1 data collection will open on Monday, April 26th, 2021. Employers subject to the EEO-1 report should get ready to submit 2019 and 2020 data in anticipation of this opening. The deadline for submitting 2019 and 2020 EEO-1 data will be Monday, July 19th, 2021.
Employers, therefore, have an extra two weeks to submit the information. The extension is because of the burden of supplying two years' worth of information and the ongoing challenges posed by the pandemic.
The collection will not include pay information. Private employers with 100 or more employees, as well as federal contractors with 50 or more employees, are required to submit EEO-1 data, which includes sex and race/ethnic information for the workforce. The information is generally submitted electronically to the Equal
Employment Opportunity Commission (EEOC). Some unknowns remain, including whether employers may report employees who self-identify as a non-binary gender. Employers will find guidance at https://EEOCdata.org when the collection opens.
Form I-9
Because of the continuing precautions related to the pandemic, the Department of Homeland Security extended its Form I-9 flexibility policy an additional 60 days until May 31, 2021. It was set to expire at the end of March.
For employees who work exclusively in a remote setting due to COVID-19-related precautions, employers need not physically review and verify documents employees provide to show their identity and their eligibility to work in the U.S.
Employers should be prepared to perform that task in the future. They will need to physically review those documents when those employees can perform non-remote employment on a regular, consistent, or predictable basis, or this flexibility ends, whichever comes first.
This option applies only to employers and workplaces that are operating remotely. If there are employees physically present at a work location, employers must physically review and verify the identity and employment eligibility documentation for the Form I-9.
This article was written by Darlene Clabault of J. J. Keller & Associates, Inc.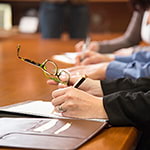 Looking for more on HR compliance?
Get the information and products you need to stay on top of industry changes and comply with regs.