National Work Zone Awareness Week set for April 26-30
Posted April 9, 2021
April 26-30 marks National Work Zone Awareness Week (NWZAW), an annual spring campaign held at the start of construction season to encourage safe driving through highway work zones. Struck-by injuries are a leading cause of death as well as the leading cause of nonfatal injuries in the construction industry.
The week starts on April 26 with Work Zone Safety Training Day, which emphasizes the importance of laying the groundwork for safety through training. Employers are encouraged to pause during the workday for safety demonstrations, discussions about safety policies, and other prevention measures.
This year, the Michigan Department of Transportation (MDOT) is hosting the 2021 NWZAW kick-off event at 11 AM EST on April 27 with the theme, "Drive Safe. Work Safe. Save Lives." The event will be livestreamed.
This article was written by Rachel Krubsack of J. J. Keller & Associates, Inc.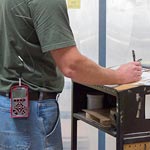 Looking for more on workplace safety?
Get the information and products you need to stay on top of industry changes and comply with regs.