Despite new immunity laws, safety is the best COVID-19 defense
Posted April 21, 2021
The number of people with immunity from the COVID-19 virus continues to climb. So does the number of states enacting laws and executive orders protecting businesses/employers from virus-related liability.
The laws are designed to protect businesses from claims that an individual became infected while at the place of business. Many of the laws focus on the health care industry, but others apply to all businesses. Nevada's SB4, for example, enacted August 2020, provides most businesses with liability immunity if someone alleges personal injury or death as a result of COVID-19 exposure, but only as long as the businesses follow local, state, and federal health standards and they don't act with gross negligence. The law is effective until the Governor terminates the emergency or July 1, 2023, whichever is later.
Bad behavior adds risk
Like Nevada's law, most provide civil liability protection if the business follows safety protocols. The immunity does not apply to businesses that:
Failed to substantially comply with applicable COVID-19 public health directives or procedures; or
Acted with gross negligence or wanton, willful, malicious, intentional, or reckless misconduct.
Some of the public health directives include orders and guidelines issued by a state agency, the U.S. President, any federal agency, or a local governmental agency, as well as industry-specific guidelines adopted by a state agency that governs the industry.
The claims
To date, about 10,000 complaints related to COVID-19 have been filed, over 2,000 from employees.
If the employer can show that it followed the OSHA, CDC, and other public health protocols, it has a stronger defense against an employee's claim of being infected while at work. This is the type of claim employers would be protected from in states that have passed related liability protection laws.
Such legal immunity is not, however, universal. In April, an employer was fined over $100,000 in OSHA penalties for prohibiting employees and customers from wearing masks, failing to ensure employees and customers practiced social distancing, and refusing to implement other safeguards against the coronavirus. Thus, employers must put forth a good faith effort toward safety.
A bill (SB 4317) introduced in Congress provided national protection, but it did not see the light of day. Unless a federal law is passed, businesses will need to rely on the patchwork of state laws. The safest route remains following and enforcing the related CDC, OSHA, state, and local public health guidelines.
This article was written by Darlene Clabault of J. J. Keller & Associates, Inc.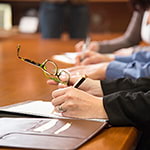 Looking for more on HR compliance?
Get the information and products you need to stay on top of industry changes and comply with regs.