Court: Quarantine for asymptomatic COVID-19 can be FMLA leave
Posted April 23, 2021
Emma Employee was exposed to the COVID-19 virus and was told by her doctor to get tested and quarantine for 14 days. The test was positive. Emma informed Sully, her supervisor, of the need to quarantine.
Six days later, Sully told Emma she had been cleared and should return to work. Emma reminded Sully that she had not completed the quarantine. Sully responded that if she did not return, Emma's absence would be considered a "call-out." Again, Emma repeated the doctor's quarantine advice and referenced guidance from the CDC.
The following day, Emma did not return to work and Sully fired her.
Emma sued.
Does Emma have a valid FMLA claim?
Yes, according to the court.
The employer argued that Emma didn't have a serious health condition, so she was not entitled to FMLA leave.
Emma claimed that the employer was required but failed to provide her notice of the deficiency in her request for leave and allow her an opportunity to cure that deficiency. It never asked for a certification to help determine if Emma had a serious health condition. Nor did it provide Emma with an eligibility/rights & responsibilities notice.
The court allowed the FMLA claim to proceed.
Can quarantine be FMLA leave?
When an employee puts you on notice of the need for leave for a potentially qualifying FMLA reason, go through the FMLA steps. Provide an eligibility/rights & responsibilities notice. You may (and should) ask for a certification to help you determine whether the employee has a serious health condition and to designate the leave as FMLA leave.
Emma needed leave for a medical condition. The employer did not respond with FMLA in mind.
Had the employer done so and requested a certification, and that certification supported Emma's need for leave for the quarantine period, it's likely that the doctor's directive along with CDC quarantine guidance are enough to designate the absence as FMLA leave. At least that's what employment lawyers are indicating, and they spend a lot of time defending employers.
Payne v. Woods Services Medical Practice Group et al., E.D. PA, No. 20-4651, February 16, 2021
This article was written by Darlene Clabault of J. J. Keller & Associates, Inc.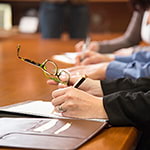 Looking for more on HR compliance?
Get the information and products you need to stay on top of industry changes and comply with regs.