Annual GHG Inventory: Downward trend attributed to falling emissions in electric power sector
Posted April 16, 2021
EPA released the 28th annual Inventory of U.S. Greenhouse Gas Emissions and Sinks (GHG Inventory) which takes stock of national yearly greenhouse gas (GHG) emissions. The most recent data for the GHG Inventory covers 2019. Net GHG emissions were 5,769 million metric tons of carbon dioxide equivalent in 2019, a 1.7 percent decrease in emissions between 2018 and 2019.
Many factors influence GHG emissions from year to year, but EPA attributes the downward trend in GHG emissions to falling emissions in the electric power sector.
The GHG Inventory covers seven key greenhouse gases: carbon dioxide, methane, nitrous oxide, hydrofluorocarbons, perfluorocarbons, sulfur hexafluoride, and nitrogen trifluoride. Along with tracking U.S. greenhouse gas emissions, the inventory also calculates carbon dioxide that is removed from the atmosphere through the uptake of carbon in forests and other vegetation.
Overview of U.S. GHG emissions in 2019
Carbon dioxide emissions: 80%.
Methane emissions: 10%
Nitrous oxide emissions: 7%
Fluorinated gases: 3%
Sources of U.S. GHG emissions in 2019
Transportation: 29%
Electricity: 25%
Industry 23%
Commercial & Residential: 13%
Agriculture: 10%
The GHG Inventory is an impartial, policy neutral report that has been compiled annually since 1993 and submitted to the United Nations Framework Convention on Climate Change (UNFCCC). The report is prepared by EPA in collaboration with numerous experts from other federal agencies, state government authorities, research and academic institutions, and industry associations. National inventories for UNFCCC Annex I parties are provided to the UNFCCC Secretariat each year by April 15.
This article was written by Lisa Neuberger of J. J. Keller & Associates, Inc.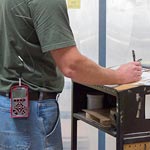 Looking for more on workplace safety?
Get the information and products you need to stay on top of industry changes and comply with regs.