6 tips to help avoid light violations during Roadcheck
Posted April 30, 2021
This year's International Roadcheck inspection event will take place May 4-6 on a highway near you.
If you'll have drivers on the road during the three-day event, make sure they're prepared for a comprehensive roadside inspection.
Lights and HOS
This year, inspectors will be paying special attention to two issues that always generate a lot of violations: the vehicle's lights and the driver's hours of service (HOS).
According to the FMCSA, "lamps inoperable" (49 CFR §393.9) was the number one vehicle violation of 2020 — as it is every year — accounting for over 12 percent of all vehicle violations.
During last year's Roadcheck, HOS violations topped the list of driver out-of-service (OOS) violations, accounting for nearly 35 percent of all driver OOS conditions.
Broken lights are obvious
Ironically, a broken light is one of the most visible defects a vehicle can have. That's why it tops the annual list of common roadside violations, because inspectors can spot a broken lamp a mile away.
To avoid light violations, consider these tips:
Drivers must check all required lights during their daily pre- and post-trip inspections — it's required under §392.7 and §396.11.
Refer to §393.11 for a list of all DOT-required lights, and make sure drivers know what's required depending on their vehicle type.
Additional non-DOT-required lights don't have to work, but they are still cause for concern. Broken lights are one sign of an inadequate maintenance program. It's best to make sure they all work.
Drivers must make sure their lights are not only working, but clean. A dirty light may not meet the candlepower standards and could result in a violation. Make sure drivers have cleaning supplies in the vehicle.
Drivers must also ensure all required reflective tape and reflectors are in place and clean. If tape or a reflector was required at the time of manufacture, it has to be maintained — you can find the manufacturing standards in 49 CFR §571.108.
Drivers must carry spare fuses for any light circuit that relies on a fuse. This is required under §393.95. Though not required, drivers may also want to carry spare bulbs.
What if there's a violation?
If a driver is cited for a broken light or any other equipment violation but not placed OOS, the vehicle can be driven. However, the defect must be recorded on that day's post-trip inspection report and repaired before the next dispatch.
If a driver is placed OOS for a violation, he or she cannot drive until the violation is repaired.
COVID-19 considerations
Roadcheck inspectors plan to use precautions to prevent the spread of COVID-19, and your drivers should too.
Make sure they're equipped with masks (more than one), disposable gloves, disinfectant, and hand sanitizer. A spare pen is also a good idea, so they don't have to borrow one.
Remind drivers to keep their distance from inspectors. They should stay in the cab when possible. If standing outside talking to someone, they should try to stand in a crosswind so airborne particles are not blowing at them.
Avoid touching shared documents and other objects as much as possible.
This article was written by Daren Hansen of J. J. Keller & Associates, Inc.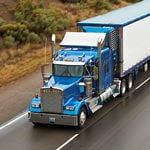 Looking for more on transportation safety?
Get the information and products you need to stay on top of industry changes and comply with regs.