Washington state adopts federal walking working surface rules
Posted April 27, 2020
On April 21, 2020, the Washington Division of Occupational Safety and Health (DOSH) adopted a final rules for Walking Working Surfaces. The effective date of this rule is October 1, 2020.
DOSH updated chapter 296-24 WAC, General safety and health standard, and chapter 296-876 WAC, Ladders, portable, and fixed. The adopted amendments incorporate federal provisions in 29 CFR 1910.21 through 1910.30. In addition, DOSH adopted several housekeeping changes and clarifications. No additional compliance requirements were added beyond the requirements noted in 29 CFR 1910.21 through 1910.30.
In January of 2017, federal OSHA issued a final rule update to General Industry Walking-Working Surfaces and Fall Protection Standards. Consequently, DOSH updated its rules to make them at least as effective as OSHA, as required by the Washington State Plan.
This article was written by Ed Zalewski of J. J. Keller & Associates, Inc.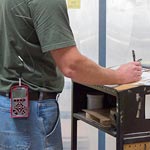 Looking for more on workplace safety?
Get the information and products you need to stay on top of industry changes and comply with regs.