States given more time to disqualify drivers, update driving records
Posted April 21, 2020
Due to disruptions caused by the COVID-19 pandemic, the Federal Motor Carrier Safety Administration (FMCSA) is giving states more time to update the driving records of commercial driver's license (CDL) and commercial leaner's permit (CLP) holders who are convicted of a disqualifying offense.
Normally, states are required to update driving records within 10 days after drivers are convicted of traffic violations or lose driving privileges. States that fail to do so can lose a portion of their highway funds.
A new "Notice of Enforcement Discretion" from the FMCSA, issued April 17, 2020, says states will not risk their highway funds if they are unable to update driving records due to staffing shortages or office closures caused by the COVID-19 outbreak.
Four requirements are delayed
Specifically, licensing agencies have been granted a short-term reprieve from the need to:
Add a driver's disqualification or conviction to the driver's record within 10 days;
Notify the driver's home state within 10 days of any disqualification or conviction in another state;
Report a driver's conviction or license withdrawal to a national database within 10 days; or
Disqualify drivers "as expeditiously as possible" after they commit a disqualifying offense listed in 49 CFR §383.51.
As a result, recent convictions and disqualifying offenses may be hidden from employers when they review drivers' motor vehicle records (MVRs) in coming months. Under 49 CFR §383.31, §383.33, and §391.15, however, drivers are still required to notify their employers of traffic convictions and license suspensions.
The exemption is in effect until June 30, 2020, but states are expected to get back into compliance as soon as the public health emergency ends or when the state licensing agency resumes normal operations, whichever occurs first. In no case may states be out of compliance after September 28, 2020, the FMCSA says.
In late March, the agency issued a waiver allowing certain commercial drivers to continue driving despite their CDL, CLP, or medical card expiring. The waiver was issued in response to many states closing their licensing agencies due to the pandemic.
This article was written by Kathy Close of J. J. Keller & Associates, Inc.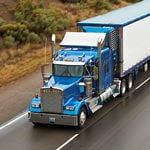 Looking for more on transportation safety?
Get the information and products you need to stay on top of industry changes and comply with regs.