Oregon OSHA relaxes enforcement on annual training, medical evaluations
Posted April 13, 2020
Due to the COVID-19 pandemic, Oregon OSHA will relax enforcement on annual training requirements and medical evaluations that become due between March 1 and June 30.
For annual training requirements, operator certifications, re-certifications, and annual testing that expire between March 1 and June 30 and that require outside expertise, Oregon OSHA will accept the employer's declaration that such training is not feasible at the present time.
For annual or periodic medical monitoring (such as audiograms or blood lead level testing) and annual respirator fit testing that employers choose not to conduct for the safety of workers relating to COVID-19 or because medical services are not able to be conducted due to COVID-19 restrictions, rescheduling this testing after June 30 is acceptable. For initial medical monitoring and fit testing, Oregon OSHA says it will address genuine feasibility and "greater hazard" issues related to such training addressed on a case-by-case basis.
Employers are expected to continue with initial training requirements that they would ordinarily do in-house, while keeping in mind social distancing and making use of teleconferencing techniques. Re-certifications and annual testing that the employer can perform in-house must still be done.
As the pandemic evolves, Oregon OSHA will periodically reevaluate the March 1 - June 30 timeframe to identify whether any additional adjustments need to be made.
This article was written by Rachel Krubsack of J. J. Keller & Associates, Inc.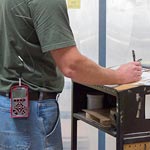 Looking for more on workplace safety?
Get the information and products you need to stay on top of industry changes and comply with regs.