Nevada OSHA to crack down on noncompliant construction sites
Posted April 2, 2020
In a recent memo, Nevada OSHA (NVOSHA) reminded construction employers of the state's social distancing mandates and said it will conduct random onsite inspections to ensure the mandates are being followed. Sites found to be noncompliant may be penalized or closed.
NVOSHA reminded affected employers of the guidelines it published on March 18 in support of the state's COVID-19 mitigation initiative. The guidelines reference construction operations and provide the following:
Restrict meetings, tailgate talks, and gatherings to no more than 10 people;
Establish effective social distancing protocols which ensure employees maintain a 6-foot distance from one another during meetings where 10 people or fewer are present;
Ensure social distancing protocols are maintained during operation of mobile service equipment designed for two or more passengers, including, but not limited to, scissors lifts, man lifts, etc.;
Provide sanitation and cleaning supplies for addressing common surfaces in multiple user mobile equipment and tooling;
Maintain 6-foot separation protocols for labor transportation services such as buses and vans;
Conduct daily surveys of changes to employee health conditions;
Ensure that any identified first responders in the labor force are provided and use the needed personal protective equipment (PPE) and equipment for protection from communicable or infectious disease; and
Provide access to potable and sanitary water.
NVOSHA said it has conducted intermittent surveys of active construction sites in the state and found that employees are still being allowed to work in close proximity (less than 6 feet of separation) to one another.
This article was written by Rachel Krubsack of J. J. Keller & Associates, Inc.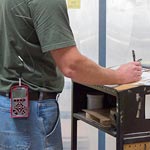 Looking for more on workplace safety?
Get the information and products you need to stay on top of industry changes and comply with regs.