FMCSA grants temporary authority for carriers helping during pandemic
Posted April 7, 2020
The Federal Motor Carrier Safety Administration (FMCSA) is waiving application fees for motor carriers and passenger carriers applying for Temporary Operating Authority during the coronavirus (COVID-19) emergency declaration. Temporary authority is issued to help carriers seeking to provide direct assistance during an emergency, but that do not have the proper for-hire authority to do so.
When applying for temporary authority, carriers are asked to select the inquiry type option "Emergency Authority COV19" under the drop down for "MC/MX# Operating Authority" via the upload process on the FMCSA website.
FMCSA has indicated that authority applications should be processed within 48 business hours of receipt. Even though the emergency application process is accelerated, authority will not be granted until the carrier's evidence of insurance and BOC-3 form (designation of process agents) are on file with FMCSA.
When applying for temporary authority, carriers are required to provide a statement on why they need temporary operating authority, per §365.107T(g).
The temporary authority is only active as long as the emergency declaration is in effect. All temporary authorities are revoked once the emergency declaration expires.
A carrier must have a USDOT number before applying for emergency temporary authority.
Carriers who are currently declared out of service by the FMCSA are not eligible for temporary authority.
This article was written by David Lubach of J. J. Keller & Associates, Inc.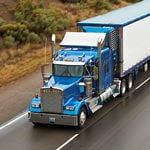 Looking for more on transportation safety?
Get the information and products you need to stay on top of industry changes and comply with regs.