EPA researching COVID-19 disinfection methods, antibody testing
Posted April 22, 2020
The Environmental Protection Agency (EPA) is asking for a rapid review with the Science Advisory Board to provide feedback on COVID-19 research needs identified by EPA's researchers. The researchers have already begun evaluating disinfectant efficacy on different types of surfaces in public areas that are frequently touched by multiple people, such as in subway cars.
In addition, EPA researchers are collaborating with CDC researchers in several other areas, including:
Environmental Cleanup and Disinfection: The researchers are currently evaluating the use of ultraviolet (UV), ozone, and steam for large-scale disinfecting needs in places like schools or office buildings. They are also evaluating whether electrostatic sprayers and foggers used with EPA-approved disinfectants can be effective at killing the virus.
Wastewater Virus Detection: The researchers are studying whether SARS-CoV-2 can be detected in wastewater. They will focus on understanding how much of the virus is present, whether it is infectious, and how it moves through the wastewater system. This information will help public health agencies by acting as an early warning system and can identify if there is an outbreak in a specific community.
Salivary Antibody Assay Development: The researchers are developing an easy, non-invasive, and reliable antibody assay to help determine the true infection rate across the country.
This article was written by Ed Zalewski of J. J. Keller & Associates, Inc.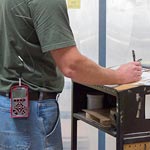 Looking for more on workplace safety?
Get the information and products you need to stay on top of industry changes and comply with regs.