CVSA publishes 2020 North American Standard Out-of-Service Criteria
Posted April 3, 2020
The 2020 North American Standard Out-of-Service Criteria (OOSC) was published by the Commercial Vehicle Safety Alliance (CVSA) and went into effect on April 1.
The OOSC is the decision-making guide officers use to determine if a driver or vehicle with a violation will be allowed to leave the inspection site. If the violation is covered by the OOSC, the officer will require the violation to be corrected before the driver or vehicle will be allowed to continue.
Significant changes
This year's OOSC includes many technical changes. The following are among the most significant:
Drivers that have a disqualifying violation listed in the Drug and Alcohol Clearinghouse will be placed out of service (OOS). (See below for more details.)
All references to automatic on-board recording devices (AOBRDs) were removed. Drivers will be placed OOS if found using an AOBRD in place of an ELD. While this has been the case since last December, dropping all AOBRD references clearly shows ELDs are the only compliant electronic log (though drivers do have the option to use other electronic devices when allowed to use paper logs).
Drivers who do not have a log in Canada will no longer automatically be placed OOS for 72 hours. Once drivers provide a log that shows they are in compliance, they will be released. Note that drivers should be prepared to have their logs examined with a fine-tooth comb after receiving a violation.
Defects involving sway bars that are not involved in axle positioning are no longer an OOS violation.
Any missing or unsecured securement devices on the manhole cover on a tank containing hazardous materials will be considered an OOS condition.
Clearinghouse specifics
When a disqualifying entry is entered in the Clearinghouse, an entry stating that the driver is prohibited from operating commercial vehicles under §382.501(a) will appear on the motor vehicle record (MVR) system that officers use. The entry will remain visible in the law enforcement MVRs until:
The driver completes the substance abuse professional (SAP) evaluation and treatment process,
The SAP enters the completion of the evaluation and treatment in the Clearinghouse, and
A carrier makes an entry in the Clearinghouse indicating the driver has passed a return-to-duty test.
No 'soft enforcement' period
The changes to the OOSC were developed last year, and officers were trained on using the new criteria earlier this year. As a result, there will be no "implementation" or "soft enforcement" period.
This article was written by Tom Bray of J. J. Keller & Associates, Inc.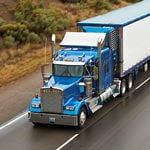 Looking for more on transportation safety?
Get the information and products you need to stay on top of industry changes and comply with regs.