CDC guidance on using masks, though OSHA said masks are not respirators
Posted April 28, 2020
The Centers for Disease Control and Prevention (CDC) issued guidance for meat and poultry processing facilities that includes information on using cloth masks, clarifying that cloth masks are not personal protective equipment (PPE).
That guidance correlates with an OSHA Letter of Interpretation dated December 20, 2017, in which OSHA was asked about employees wearing surgical masks. In the letter, OSHA stated that "Surgical masks are not considered respirators by OSHA and, as such, are not covered by 29 CFR 1910.134."
CDC recommends wearing cloth face coverings in addition to social distancing (i.e., staying at least 6 feet away from others). Cloth face coverings are intended to protect other people, not the wearer. They are not PPE, and are not substitutes for PPE such as respirators or medical facemasks (like surgical masks).
It may not be practical for workers to wear a single cloth face covering for the full duration of a work shift (e.g., eight or more hours). If cloth face coverings are worn, employers should provide readily available clean cloth face coverings (or disposable facemask options) for workers to use when the coverings become wet, soiled, or otherwise visibly contaminated.
Employers who determine that cloth face coverings should be worn in the workplace, including to comply with state or local requirements for their use, should ensure the cloth face coverings:
Fit over the nose and mouth and fit snugly but comfortably against the side of the face;
Are secured with ties or ear loops;
Include multiple layers of fabric;
Allow for breathing without restriction;
Can be laundered using the warmest appropriate water setting and machine dried daily without damage or change to shape (a clean cloth face covering should be used each day);
Are not used if they become wet or contaminated;
Are handled as little as possible to prevent transferring infectious materials to the cloth; and
Are not worn with or instead of respiratory protection when respirators are needed.
This article was written by Ed Zalewski of J. J. Keller & Associates, Inc.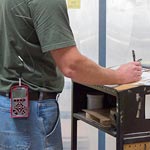 Looking for more on workplace safety?
Get the information and products you need to stay on top of industry changes and comply with regs.