Proposed hours-of-service reforms sent to White House
Posted April 2, 2019
The much-anticipated changes to the hours-of-service (HOS) rules in the trucking industry took another step closer to reality last week.
While speaking to a crowd at the Mid-America Trucking Show in Louisville, Kentucky, Transportation Secretary Elaine Chao announced that a notice of proposed rulemaking (NPRM) has been sent to the Office of Management and Budget (OMB) for consideration.
Ray Martinez, administrator for the Federal Motor Carrier Safety Administration (FMCSA), addressed the HOS rules Monday at a Commercial Vehicle Safety Alliance (CVSA) workshop in St. Louis, Missouri. Martinez said the FMCSA is seeking to provide more flexibility to drivers while maintaining current safety standards for commercial motor vehicles during its review of the HOS rules.
The trucking industry has been buzzing about the proposed changes since last fall when the DOT received more than 5,200 comments in response to a request for input on ways to make the HOS rules more flexible.
In August, the DOT sought comments on the following issues:
Extending the maximum workday to 14 hours for 100-air-mile drivers;
Extending the 14-hour limit to 16 hours when a driver encounters adverse driving conditions;
Revising or even eliminating the 30-minute rest-break provision;
Restoring flexibility to the split-sleeper-berth provision; and
Petitions from the Owner-Operator Independent Drivers Association and Trucker Nation on rest breaks and the 14-hour rule.
During his remarks to the CVSA, Martinez said many of the comments received by the FMCSA about HOS had to do with increased flexibility to deal with breaks, traffic congestion, and finding parking.
Neither Chao nor Martinez said they could provide additional details while the proposed rules remain under OMB review, nor was a timeframe offered regarding when the industry can expect to hear any announcements.
---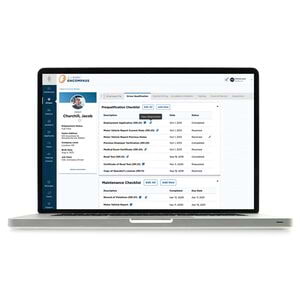 The J. J. Keller® Encompass® with ELogs Fleet Management System helps you easily manage compliance with a cloud-based system that captures data from J. J. Keller ELDs and the J. J. Keller Mobile® app.
---
J. J. Keller's FREE Transportation SafetyClicks™ email newsletter brings quick-read safety and compliance news right to your email box.
Sign up to receive Transport SafetyClicks™.