Pay data could be required on EEO-1 report by September 30
Posted April 5, 2019
On April 3, the Office of Management and Budget (OMB) filed a response to the questions regarding pay data requirements in the EEO-1 report. The OMB indicated that the Equal Employment Opportunity Commission (EEOC) plans to adjust the deadlines for employers to retroactively collect 2018 pay data and submit the relevant data to the EEOC by September 30, 2019. The judge, however, still needs to review the OMB's response and issue a ruling on whether the EEOC's plan is acceptable.
In the response, the EEOC's Chief Data Officer indicated that the data processes used to collect EEO-1 demographic data are not capable of collecting employers' 2018 pay data. That is because the EEOC collects EEO-1 data from approximately 80,000 employers, and its current data processes are programmed to collect 140 data fields for the regular (race/ethnicity, gender and job category) demographic collection.
In contrast, for each pay report collected from an employer, there will be 3,360 data fields of pay data to be addressed. According to the EEOC, it would take nine months to modify the EEOC's current processes to support the collection of large amounts of sensitive pay data from 2018. The EEOC has determined that modifying its current processes is not currently a viable option for collecting such pay data from employers.
Instead, the EEOC has determined that using an outside data and analytics contractor is the only alternative, at a price tag of over $3 million.
The EEOC also warns that there is a serious risk that the expedited data collection process may yield poor quality data because of the limited quality control and quality assurance measures that would be implemented due to the expedited timeline. This will be the first time that the EEOC collects pay data from employers, and it also will be the first time that the EEOC utilizes the contractor to perform a collection of information on an expedited basis.
Seems there are still some bumps in the road ahead regarding this collection. For now, however, it might be prudent to prepare to provide pay data by September 30. Stay tuned.
EEO-1 reports are generally required from all private employers with 100 or more employees and all federal contractors (private employers), who have 50 or more employees and have a contract of $50,000 or more.
This article was written by Darlene M. Clabault, SHRM-CP, PHR, CLMS, of J. J. Keller & Associates, Inc.
---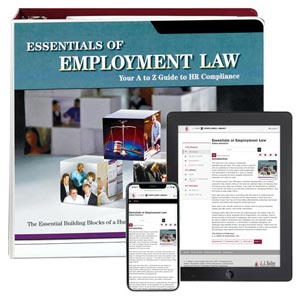 J. J. Keller's Essentials of Employment Law Manual covers more than 100 vital HR topics, including FMLA, ADA, HIPAA, FLSA, COBRA and more.
---
J. J. Keller's FREE HR SafetyClicks™ email newsletter brings quick-read safety and compliance news right to your email box.
Sign up to receive HR SafetyClicks™.