FMCSA seeks to make Crash Preventability Project permanent
Posted April 5, 2019
The Department of Transportation (DOT) is seeking to make its Crash Preventability Demonstration Project permanent, which would allow crashes where the driver was not at fault to be described as "not preventable" for the purpose of Compliance, Safety, Accountability (CSA) scores.
During a speech at the Mid-American Trucking Show in Louisville, Kentucky, in March, Transportation Secretary Elaine Chao said, "based on positive feedback from industry stakeholders," the DOT plans to make permanent a two-year demonstration program that is scheduled to conclude July 30, 2019.
According to the Federal Motor Carrier Safety Administration (FMCSA), the program was created when industry stakeholders expressed concerns that the Crash Indicator Behavior Analysis Safety Improvement Category (BASIC) in the Safety Measurement System (SMS) would not identify who was at fault in crashes.
Crashes that were eligible for review in the program include when a commercial motor vehicle (CMV):
Was struck by a motorist driving under the influence;
Was struck by a wrong-way driver;
Was struck in the rear;
Was struck while legally stopped or parked, including when the CMV was unattended;
Struck an individual committing or attempting to commit suicide when stepping out in front of or driving in front of the CMV;
Sustained disabling damage after striking an animal in the roadway;
Was struck by cargo or equipment from another vehicle; or
Crashed as a result of an infrastructure failure, falling trees, rocks or other debris.
Chao said additional crash scenarios could be included to expand upon the categories.
Reports indicate that the FMCSA does not need to go through the formal rulemaking process to make the demonstration program permanent.
---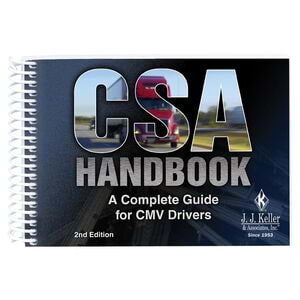 J. J. Keller's CSA Handbook: A Complete Guide for CMV Drivers covers all information CMV interstate truck and bus drivers need to operate successfully under CSA.
---
J. J. Keller's FREE Transportation SafetyClicks™ email newsletter brings quick-read safety and compliance news right to your email box.
Sign up to receive Transport SafetyClicks™.