Controversial "standards improvement" rule moves close to finalization
Posted April 18, 2019
The Office of Management and Budget (OMB) recently completed the mandatory review of OSHA's Standards Improvement Project (SIP) rulemaking. This clears the way for publication of the rule, likely soon.
SIP rulemakings are supposed to be minor in nature — revising duplicative, unnecessary, and inconsistent safety and health standards. However, the fourth installment of SIP, proposed in October 2016, contained one provision that raised eyebrows among many employers: changing the definition of "unexpected" in the Lockout/Tagout (LOTO) standard at 1910.147.
Under the proposed rule, OSHA hoped to make clear that employers could not use warning and delay systems as alternatives to following the requirements of the LOTO standard, even when they warn of energization. OSHA believes the change is needed due to a 6th Circuit Court of Appeals ruling that the LOTO standard did not apply where a startup procedure for a machine provided a warning to a worker servicing it that it was about to start. The court held that because these features would warn the servicing employees that the machines were about to start the startup would not be ''unexpected.'' The scope of the current LOTO regulation specifically applies only to "unexpected" releases of energy, even though OSHA has always interpreted it more broadly to all energy releases during servicing/maintenance activities. The proposed rulemaking would bring the rule in line with OSHA's long-standing interpretation.
However, many employers and industry groups argued that OSHA should undertake a full notice-and-comment rulemaking just on the LOTO provision, rather than lumping it in with the SIP process, which has historically been reserved for minor clean-up of regulations. In fact, the rest of the provisions in the SIP proposal were non-controversial, primarily cleaning up the construction standards and removing the requirements that employers include employees' social security numbers on exposure monitoring, medical surveillance, and other records. OSHA has not stated whether the final rule will contain the proposed LOTO provision. But, employers should watch this rulemaking closely. If the proposal is finalized, employers will want to review their Energy Control Programs to ensure any equipment that is not currently included, particularly those that sound an alarm upon energization, are evaluated for inclusion.
---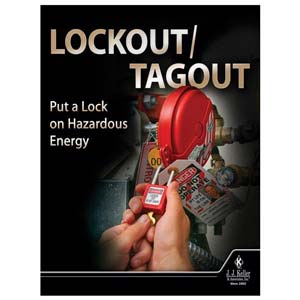 J. J. Keller's Lockout/Tagout: Put a Lock on Hazardous Energy Training help stop unexpected startups with critical info on OSHA lockout/tagout requirements.
---
J. J. Keller's FREE Workplace SafetyClicks™ email newsletter brings quick-read safety and compliance news right to your email box.
Sign up to receive Workplace SafetyClicks™.