Beware, regular attendance is not an essential function for all jobs
Posted April 12, 2019
Just last week, we discussed a court case from the Fourth Circuit that indicated that regular attendance is generally an essential function; that employers don't have to allow an employee to forego coming to work on a regular basis. But not all cases read the same way, and not all jobs require regular attendance at the worksite.
Case in point
In July 2018, the Sixth Circuit ruled that just because an employee could not work full time did not mean that she did not meet the job's essential functions. Heidi was a newly hired HR Generalist who took leave after having a baby. She was scheduled to return to work but began having postpartum depression and separation anxiety. Her doctor indicated a reduced schedule for at least a month or two.
The employer accommodated Heidi, but after a couple months, things began to go south. Heidi's need for a reduced schedule continued. Despite this, Heidi got the work done, sometimes from home. Her performance review even showed that she was doing well. Apparently, however, Marcia, Heidi's supervisor felt that Heidi was missing some work duties. When Heidi again requested that her reduced schedule continue for a while more, she was fired because she could not work full time.
Heidi sued. The employer argued that it could not continue to provide the accommodation of a part-time schedule. The court pointed out, however, that whether a job's function is essential is highly fact specific; that while regular, in-person attendance is an essential function of most jobs, it is not unconditionally so.
In determining which functions are essential, courts may consider as evidence — among other things — the amount of time spent on a particular function; the employer's judgment; written job descriptions prepared before advertising or interviewing for the position; and the consequences of not requiring the employee to perform the particular function. Although the employer's judgment receives some weight in this analysis, it is not the end-all — especially when an employee puts forth competing evidence.
The fact that Marcia gave Heidi a positive performance review did not help the employer's case, nor did the fact that coworkers didn't see a problem with the schedule. Marcia also failed to name any specific tasks that Heidi did not complete. Marcia did put forth some evidence of departmental struggles due to Heidi's schedule, so the case was sent back to the trial court.
The court provided some wisdom when it indicated that, on its own, full-time presence at work is not an essential function. Employers must tie time-and-presence requirements to some other job requirement. Simply writing this in a job description isn't enough to carry water; there needs to be concrete effects because someone is not at work.
Therefore, don't rely on simply including regular attendance in a job description because it might be preferred. Ensure that you have solid evidence supporting such a claim.
Hostettler v. College of Wooster, Sixth Circuit Court of Appeals, No. 17-3406, July 17, 2018
This article was written by Darlene M. Clabault, SHRM-CP, PHR, CLMS, of J. J. Keller & Associates, Inc.
---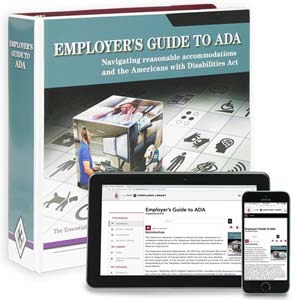 J. J. Keller's Employers Guide to ADA Manual helps you navigate the often-murky waters of the Americans with Disabilities Act (ADA).
---
J. J. Keller's FREE HR SafetyClicks™ email newsletter brings quick-read safety and compliance news right to your email box.
Sign up to receive HR SafetyClicks™.