Are you on OFCCP's (na)audit list?
Posted April 1, 2019
The Department of Labor's Office of Federal Contract Compliance Programs (OFCCP) has unleashed its first list of 2019 of employers to be audited. The agency refers to this as the Corporate Scheduling Announcement List (CSAL) and, while it is not all-inclusive, it has about 3,500 entries. The purposes of the CSAL is to provide the contractor establishment's internal EEO staff at least 45‐days advance notice to prepare for the audit and encourage contractors to take advantage of OFCCP compliance assistance offerings.
One third of the establishments on the list are agriculture, manufacturing, and wholesale trade industries, as these have had the highest rates of discrimination findings. The rest of the list was compiled without any regard to industry.
The CSAL provides contractors a 45‐day courtesy notification prior to when OFCCP begins sending its scheduling list. After receiving the scheduling list, contractors will have the standard 30 days to submit their Affirmative Action Program (AAP). As a result, all contractors on the current list are receiving a minimum of 75 days advance notice to have the AAP ready for submission. OFCCP will also grant a one‐time 30‐day extension for supporting data where AAPs are provided timely.
If you were on the list in the past, you likely received a CSAL letter in the mail. This year, however, the OFCCP will be posting the CSAL only in the FOIA library, and not mailing advanced notification to contractors.
The types and number of audits are broken down as follows:
New

: §503 focus reviews (500), are scheduled at the headquarters of multi‐establishment companies and will be conducted onsite. The onsite portion won't be conducted until September 1, 2019.

New

: Compliance checks (500), valuate the contractor's efforts in meeting its affirmative action goals, outreach activities, and recruitment efforts for protected groups.
Corporate Management Compliance Evaluation (CMCE) reviews (83), which cover the full scope of a contractor's compliance with all three of OFCCP's laws (E.O. 11246, Section 503, and VEVRAA) at the corporate level.
Establishment reviews (2,345), which are traditional, since OFCCP generally requires a separate AAP for each of the contractor's establishments.
Functional Affirmative Action Program (FAAP) reviews (72), as an alternative to maintaining establishment-specific AAPs, a contractor may request approval to establish a multi-facility plan based on functional or business units.
Cancelled contracts, contracts associated with debarred companies, contracts valued at less than $50,000, and contracts awarded to federal, state, local, municipal, tribal, city, and foreign governments, school districts, or construction companies were removed. Contracts that did not have any contract modification in the last fifteen months were assumed closed or cancelled and were also removed.
No establishment that received a scheduling letter, concluded a review, or concluded progress report monitoring resulting from a conciliation agreement or consent decree, within the last two years, is included on this scheduling list.
If your organization is on the list, you might want to perform a solid review of your affirmative action plan and actions.
This article was written by Darlene M. Clabault, SHRM-CP, PHR, CLMS, of J. J. Keller & Associates, Inc.
---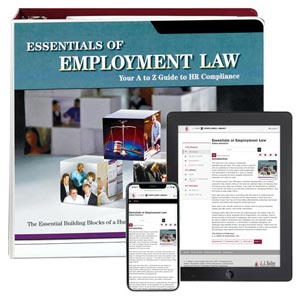 J. J. Keller's Essentials of Employment Law Manual covers more than 100 vital HR topics, including FMLA, ADA, HIPAA, FLSA, COBRA and more.
---
J. J. Keller's FREE HR SafetyClicks™ email newsletter brings quick-read safety and compliance news right to your email box.
Sign up to receive HR SafetyClicks™.