What you don't know might help your FMLA defense
Posted April 13, 2018
Chip was happy to be free of the CPAP machine and proud of himself for losing the weight that caused his sleep apnea to begin with. One less thing to worry about.
At work, however, he had a few worries. During his career with his current employer, Chip had a handful of issues, including use of vacation time, completing mandatory tests, and failing to come into work for a shift (claiming that he honestly did not think he was scheduled that day).
A few years after he disposed of his CPAP machine, he ran into some additional problems at work. He thought they might be related to renewed sleep apnea. Unfortunately for him, however, he never told anyone about these suspicions or had them validated by a doctor. You see, Chip began to be late for work. At one point, when he didn't show up for the start of his shift, his supervisor repeatedly called him, and the company ended up sending someone out to check on him. Chip subsequently did get to work. A meeting related to his tardiness was held a couple weeks later. Chip explained that he slept through his alarms. The employer was not too sympathetic; Chip was suspended and told that if he was late again, he would be fired.
Chip made no mention of sleep apnea or other condition.
A couple weeks passed before Chip was again late for work. When he arrived, he asked if it would help his case if he had a doctor's note regarding his absence. He obtained one, but it indicated only that Chip "most probably" had sleep apnea, but needed to be retested.
Chip was terminated, and he produced the note.
Chip sued, claiming that the company interfered with his FMLA rights by not affording him leave since, he argued, sleep apnea was a serious chronic health condition. He also argued that he had provided notice of the need for leave during his termination meeting when he provided the doctor's note. Finally, he argued that his oversleeping was enough to put his employer on constructive notice of the need for leave.
The court didn't buy it. Chip didn't provide any evidence that he actually had sleep apnea when he supposedly requested leave. The note indicated only that he "probably" had sleep apnea, not that he was diagnosed with it. He was also not yet under treatment for the condition. In addition, Chip didn't provide any evidence that he had put his employer on notice of the need for leave. His being late six times over 18 months did not constitute the sort of stark and abrupt change which is capable of providing constructive notice of a serious health condition. This is particularly true as Chip had indicated that the reasons for some of his late arrivals was because of non-medical reasons such as his car not starting or a failed alarm.
Therefore, since the employer had no knowledge of Chip's supposed condition, it could not have taken any action against him based on his requesting FMLA leave. Sometimes, it's nice to be in the dark.
Guzman v. Brown County, Seventh Circuit Court of Appeals, No. 16-3599, March 7, 2018
This article was written by Darlene M. Clabault of J. J. Keller & Associates, Inc.
---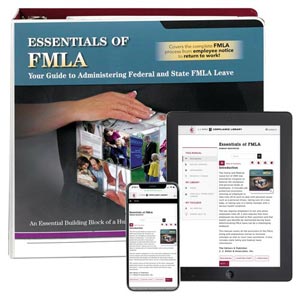 J. J. Keller's Essentials of FMLA manual helps HR pros understand and comply with the FMLA rules, control costs related to leave taken, and minimize the law's potential disruption to their organizations' operations.
---
J. J. Keller's FREE HRClicks™ email newsletter brings quick-read human resources-related news right to your email inbox.