Prior salary cannot justify sex-based wage differential
Posted April 17, 2018
In a precedential ruling, the 9th Circuit Court of Appeals held that employers may not use employees' previous salary to justify wage disparities between men and women. The full court indicated that "any other factor other than sex" is limited to legitimate, job-related factors such as a prospective employee's experience, educational background, ability, or prior job performance. An employee's prior salary does not, however, constitute a "factor other than sex."
Prior to this decision, the Equal Pay Act was unclear whether an employer could consider prior salary, either alone or in combination with other factors, when setting its employees' salaries.
In the case, a female employee was hired in October 2009. In her prior position, she earned an annual salary of $50,630 for 206 working days. She also received an educational stipend of $1,200 per year.
The employee's salary with her new employer was determined in accordance with the employer's policy, which dictated that a new hire's salary is to be determined by taking the hired individual's prior salary, adding 5%, and placing the new employee on the appropriate salary schedule. The policy did not rely on experience to set an employee's initial salary.
During a lunch with colleagues, the employee learned that her male colleagues had been subsequently hired in equal positions at higher salary steps. In response, she filed a complaint about the pay disparity with the employer, which responded that all salaries had been set in accordance with company policy. The employer claimed to have reviewed salary placements of male and female management employees for the past 25 years (so including before the policy was even informally adopted), finding that the policy placed more women at higher compensation than males. The female employee disputed this analysis and claimed that the data show men were placed at a higher average salary. The employee sued under the Equal Pay Act.
The employer argued that the fourth catchall exception in the law, "any other factor other than sex," includes an employee's prior salary and applies when her starting salary is based on her prior salary.
The court indicated that "It is inconceivable that Congress, in an Act the primary purpose of which was to eliminate long-existing 'endemic' sex-based wage disparities, would create an exception for basing new hires' salaries on those very disparities—disparities that Congress declared are not only related to sex but caused by sex. To accept the employer's argument would be to perpetuate rather than eliminate the pervasive discrimination at which the Act was aimed. Prior salary, whether considered alone or with other factors, is not job related and thus does not fall within an exception to the Act.
Rizo v. Yovino, 9th Circuit Court of Appeals, No. 16-15372, April 9, 2018
This article was written by Darlene M. Clabault of J. J. Keller & Associates, Inc.
---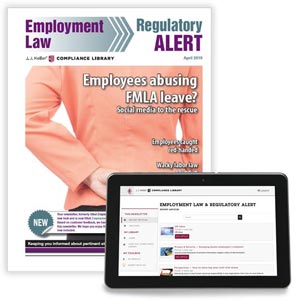 J. J. Keller's Employment Law Today newsletter explains why you need to care, what you need to do and how your business could be affected by HR industry news.
---
J. J. Keller's FREE HRClicks™ email newsletter brings quick-read human resources-related news right to your email inbox.