One dozen agencies agree to speed infrastructure permitting decisions
Posted April 11, 2018
On April 9, 2018, EPA, along with 11 other federal agencies, signed a Memorandum of Understanding (MOU) that is intended to speed up environmental reviews of major infrastructure projects. EPA says the "One Federal Decision" MOU streamlines the often lengthy and complicated environmental permitting process that can hinder infrastructure projects.
The MOU calls for a lead federal agency to guide major infrastructure projects through the environmental review and permitting process. It directs federal agencies to agree on a timeline with a goal of completing the entire permitting process within two years. It also tells the agencies to cooperate in making environmental review and authorization decisions and to develop a single record of decision.
The MOU stems from the One Federal Decision policy established in Executive Order 13807, which directed the White House Office of Management and Budget and the Council on Environmental Quality to develop a framework for implementing the policy.
The other 11 agencies to sign the MOU include the U.S. Department of the Interior, U.S. Department of Agriculture, U.S. Department of Commerce, U.S. Department of Housing and Urban Development, U.S. Department of Transportation, U.S. Department of Energy, U.S. Department of Homeland Security, U.S. Army Corps of Engineers, Federal Energy Regulatory Commission, Advisory Council on Historic Preservation, and Federal Permitting Improvement Steering Council.
---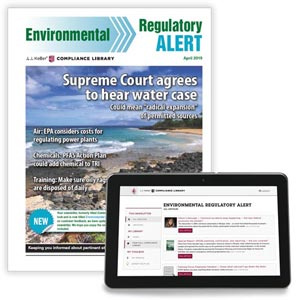 J. J. Keller's Environmental Alert: The Compliance Guide for Safety Professionals helps you stay on top of the latest environmental enforcement issues.
---
J. J. Keller's FREE Workplace SafetyClicks™ email newsletter brings quick-read workplace safety and compliance news right to your email box.