Officials disagree on the need for more odor in natural gas pipelines
Posted April 23, 2018
A report from the U.S. Government Accountability Office (GAO) shows that most stakeholders think more natural gas transmission pipelines should be odorized to help prevent leaks and explosions. Natural gas is normally colorless and odorless, but it can be given a sulfur-like smell to alert people to its presence.
The GAO surveyed federal and state pipeline safety officials and industry and safety stakeholders on the advantages and disadvantages of odorizing combustible gases in pipelines and whether and how federal requirements for odorizing gas in pipelines should be modified.
Approximately 74 billion cubic feet of combustible gas moves through the nation's gas pipeline network to homes and businesses every day. The Pipelines and Hazardous Materials Safety Administration (PHMSA) regulates these pipelines and has different requirements for odorizing gas to alert the public to a leak. All gas transported by distribution pipelines through communities must be odorized. Gas transported long distances by pipeline is only required to be odorized in populated areas. There are no requirements to odorize gas in gathering pipelines.
The GAO found that officials and stakeholders differ on the need to modify the federal odorization requirements for natural gas pipelines. According to the study, everyone surveyed generally agreed that pipelines that run through populated areas should be odorized for safety, as currently required. On the other hand, the majority of officials and stakeholders did not see a need to modify the regulations for gathering pipelines because of technical challenges. Gathering pipelines are usually located in rural areas, also. Still, nearly two-thirds of state officials and half of the stakeholders said additional transmission pipelines should be odorized for public safety.
Both PHSMA and other government officials disagreed that odorization provided safety benefits, saying that because natural gas pipelines are pressurized, they usually rupture rather than leak. Other required safety practices, such as internal pipeline inspections, can provide more preventative, risk-based safety management. To that end, PHMSA officials said they plan to strengthen risk-based safety requirements for transmissions and gathering pipelines as part of ongoing rulemakings. The agency anticipates issuing these rules in 2019.
---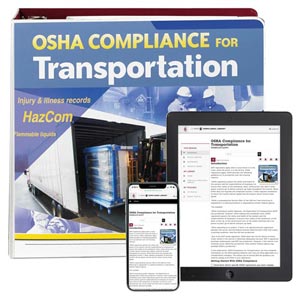 J. J. Keller's OSHA Compliance for Transportation Manual is designed specifically for the transportation industry to aid in OSHA compliance.
---
J. J. Keller's FREE Workplace SafetyClicks™ email newsletter brings quick-read workplace safety and compliance news right to your email box.