National Work Zone Awareness Week highlights everyone's role in work zone safety
Posted April 5, 2018
DOT's Federal Highway Administration (FHWA) is partnering with the American Association of State Highway and Transportation Officials and the American Traffic Safety Services Association to sponsor the 2018 National Work Zone Awareness Week (NWZAW). This year's national observance is scheduled for April 9-13 and focuses on "Work Zone Safety: Everybody's Responsibility."
In addition to the national event, many states host their own NWZAW events. The national kick-off event, to be held April 10, will be hosted by the state of Illinois at a location near the Jane Byrne Interchange reconstruction project in the Chicago metro area.
Work zones, with their daily changes in traffic patterns, narrowed lanes, and other construction activities, present many hazards to drivers and workers. These work-zone factors often lead to crashes, injuries, and fatalities. According to the FHWA, workers in work zones face several risks beyond vehicular crashes. The leading cause of death in the road and bridge construction sector are run overs, back overs, and falls.
The FHWA stresses that everyone plays a part in improving work zone safety, which includes:
Drivers, bikers, motorcyclists, and pedestrians must obey all traffic laws and signs, and pay attention to their surroundings;
Passengers must buckle up and avoid distracting the driver;
Field workers must always use safety best practices when working in active construction zones;
Emergency responders must be able to respond to and secure crash scenes;
Police and courts must enforce traffic and work zone laws; and
Local and state governments must promote safe roads and increase public awareness about work zone safety.
To help drivers and workers remain safe in work zones, FHWA provides the following tips:
Know before you go. Stay informed about where road construction is occurring and seek out the latest traffic information.
Wear your seatbelt.
Expect the unexpected. Remember that work zones may change on a daily basis.
Avoid distractions. Don't use your phone and keep your eyes on the road.
Pay attention to other drivers. Narrowed lanes may give you less ability to maneuver around other vehicles safely.
Don't speed or tailgate. Maintain a safe distance from the vehicle ahead of you and don't speed. Tailgating and speeding lead to crashes with other vehicles and put field workers at risk.
Obey road crews and signs. Watch for flaggers and warning signs.
Be patient and stay calm. Remember that workers in work zones are there to improve the road and make your future drive better.
---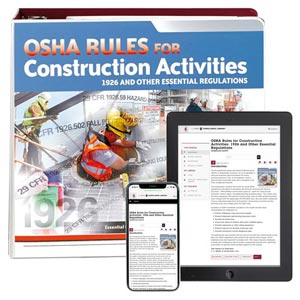 J. J. Keller's OSHA Rules for Construction Activities is an easy-to-use source for up-to-date word-for-word Part 1926 and referenced 1910 regulations.
---
J. J. Keller's FREE Workplace SafetyClicks™ email newsletter brings quick-read workplace safety and compliance news right to your email box.