Drivers hauling frack sand may qualify for HOS waiting time exception
Posted April 18, 2018
Drivers hauling sand used for hydraulic fracturing (i.e., frack sand) are now eligible to use an hours-of-service exception that extends the workday if their equipment meets specific criteria.
Previously, drivers transporting materials like frack sand to or from oil and gas well sites did not qualify for the "waiting time" exception in 49 CFR Sec. 395.1(d)(2). Now the agency says it has been persuaded to change its mind after hearing a "compelling argument" from the industry.
The exception allows certain specially-trained operators of specialized equipment to extend their 14-hour workday with time spent waiting at a well site. The waiting time must to be annotated on the driver's log as "waiting time" or placed on a fifth duty-status line.
Who qualifies?
Not all drivers transporting frack sand are allowed to use the exception. FMCSA has indicated that motor carriers will need to "assess their equipment and driver training and determine whether they meet the criteria" to use the exception.
Those criteria include:
The vehicle being specially constructed for use at oil and gas well sites; and
The driver being trained extensively in the operation of the complex equipment, in addition to driving the vehicle.
Examples of equipment that typically qualifies for the exception include heavy-coil vehicles, missile trailers, nitrogen pumps, wire-line trucks, sand storage trailers, cement pumps, frack pumps, blenders, hydration pumps, and separators.
As a result of the new allowance for sand haulers, FMCSA says it will update existing FMCSA guidance for Sec. 395.8, under Question 8, which describes the types of operations eligible to use the exception.
---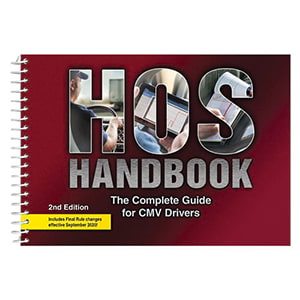 J. J. Keller's HOS Handbook: The Complete Guide for CMV Drivers - 2nd Edition provides the who, what, when, where, why, and how-to of Hours of Service for drivers.
---
J. J. Keller's FREE Transportation SafetyClicks™ email newsletter brings quick-read safety and compliance news right to your email box.