California urges local governments to address salon safety
Posted April 25, 2018
California's Department of Toxic Substances Control (DTSC) issued guidelines for local government agencies to establish and implement a voluntary program addressing nail salon safety. DTSC says the new guidelines fulfill a mandate found in AB 2125, which was signed into law in 2016.
The Department's Healthy Nail Salon Recognition Program is designed to make salons healthier for nail-care workers, who are often exposed to toxic chemicals such as toluene, formaldehyde, and dibutyl phthalate. Exposure to the types of chemicals commonly found in nail salon products has been associated with cancer and developmental and reproductive harm.
The DTSC says nail salon workers are especially vulnerable to workplace chemical exposures because of inadequate ventilation. Work days often exceed eight hours, and many salon workers are low-income immigrants who speak English as a second language. More concerning, according to DTSC, is that many of these workers are women of childbearing age. If they become pregnant, their fetuses would be exposed in utero to the toxic chemicals.
The DTSC encourages consumers to patronize salons that display gold or silver certificates. A silver certificate signifies a salon has agreed to comply with health and safety requirements for its workers, including training, the use of safer products, safe work practices, and, when providing acrylic nail services, the installation of a local exhaust ventilation system. Gold-status salons install a mechanical ventilation system and follow recommended ergonomic and environmentally friendly practices.
Approximately 48,000 nail salons operate in California. However, according to the California Healthy Nail Salon Collaborative, only about 200 healthy nail salons in five local jurisdictions already offer a healthy nail salon program: Alameda, San Mateo, and Santa Clara counties, the city of Santa Monica, and the city and county of San Francisco.
---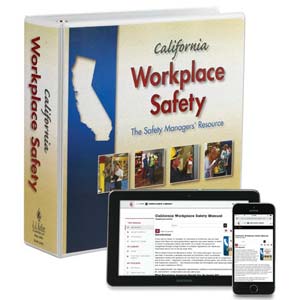 J. J. Keller's California Workplace Safety Manual provides guidance to help comply with Cal/OSHA's most scrutinized requirements.
---
J. J. Keller's FREE Workplace SafetyClicks™ email newsletter brings quick-read workplace safety and compliance news right to your email box.