CSB fact sheet describes safe hot work practices
Posted April 30, 2018
A new fact sheet from the U.S. Chemical Safety and Hazard Investigation Board (CSB) describes safe hot work practices. Hot work involves burning, welding, or similar activities that can ignite fires or explosions. The CSB says that the most common causes of worker death due to hot work are explosions and fires due to flammable atmospheres in confined spaces. The fact sheet includes a table listing CSB investigations into hot work incidents involving tanks or containers holding flammables, including at high hazard facilities such as refineries and chemical plants.
The CSB lists seven key lessons that it first included in the February 2010 Safety Bulletin, Seven Key Lessons to Prevent Worker Deaths during Hot Work in and around Tanks.
The seven key lessons are:
Use alternatives to hot work whenever possible.
Analyze the hazards before beginning hot work.
Monitor the atmosphere using a properly calibrated combustible gas detector before beginning and during hot work activities, even if a flammable atmosphere is not expected.
Test the area in work areas where flammable liquids and gases are stored or handled, and drain or purge all equipment and piping before beginning hot work. When welding on or in the vicinity of storage tanks, properly test, and, if necessary, continuously monitor all surrounding tanks or adjacent spaces for the presence of flammables and eliminate potential sources of flammables.
Use written permits to ensure that qualified personnel familiar with the specific site hazard review and authorize all hot work and issue permits specifically identifying the work to be conducted along with the required precautions.
Train personnel on hot work policies, procedures, proper use and calibration of combustible gas detectors, safety equipment, and job specific hazards.
Supervise contractors conducting hot work. Inform contractors about site-specific hazards including the presence of flammable materials.
---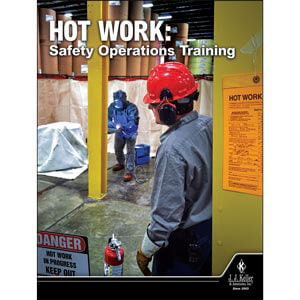 J. J. Keller's Hot Work: Safety Operations Training features real-world industry professionals who drive home the dangers of hot work and the importance of using safe work practices.
---
J. J. Keller's FREE Workplace SafetyClicks™ email newsletter brings quick-read workplace safety and compliance news right to your email box.