Subcommittee holds hearing on bill to allow comp time for private-sector employees
Posted April 10, 2017
The Subcommittee on Workforce Protections, chaired by Rep. Bradley Byrne (R-AL), held a legislative hearing on April 5 to discuss a bill that would allow private-sector employers to offer workers the choice of paid time off or cash wages for overtime hours. Rep. Martha Roby (R-AL) introduced the Working Families Flexibility Act (H.R. 1180) which is intended to help Americans better balance work, family, and personal needs.
Allowing employees to take time off after working more than 40 hours in a workweek in lieu of receiving overtime pay is known as compensation time (comp time).
For more than 30 years, public-sector employees have been able to accrue comp time for working overtime hours. But the federal rules prevent private-sector workers from receiving the same flexibility.
Labor attorney Leonard Court told committee members: "The bill is carefully drafted to ensure that employees retain maximum flexibility in being able to choose whether to take the comp time option, whether to continue exercising it, when they may seek a cash out of their banked time, and to protect them from any coercion or undue influence from the employer as to whether they exercise the comp time option."
"The Fair Labor Standards Act's 40-hour workweek as the threshold for earning overtime compensation remains totally untouched," Court added.
---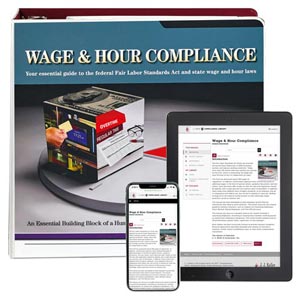 J. J. Keller's Wage and Hour Compliance with FLSA Manual provides critical info to help you comply with the Fair Labor Standards Act (FLSA) and state wage and hour laws.
---
J. J. Keller's FREE HRClicks™ email newsletter brings quick-read human resources-related news right to your email inbox.