Mistake in routine unloading procedure led to major chemical accident: CSB
Posted April 14, 2017
The U.S. Chemical Safety Board (CSB) released preliminary findings from its ongoing investigation into an October 21, 2016, toxic chemical release at a Kansas processing plant. The CSB says several shortcomings in the design and labeling of loading stations, along with mistakes in chemical unloading procedures led to the accident.
According to the CSB, similar chemical unloading activities occur at thousands of facilities across the country every day. This accident should serve as a reminder for every facility to review its own chemical unloading operations and work with motor carriers to ensure the safe unloading of chemicals.
The chemical release occurred when sulfuric acid was inadvertently unloaded from a tanker truck into a fixed sodium hypochlorite tank at the processing plant. The resulting chemical reaction produced chlorine gas that sent more than 140 workers and members of the public to area hospitals. In addition, thousands of local residents were ordered to evacuate or shelter-in-place.
The CSB investigation revealed a number of design deficiencies that increased the likelihood of the chemical mixing error. Fill lines in the loading area did not have clear labels, and the lines for sulfuric acid and sodium hypochlorite looked similar and were located close to each other. Further, employees did not follow internal procedures for unloading operations.
Investigators concluded that emergency shutdown mechanisms were not in place or were not activated from either a remote location at the facility or in the tanker truck.
Chairperson Vanessa Allen Sutherland warned industry, "This type of accident is preventable. Our investigation demonstrates all too clearly that complacency with routine practices and procedures can result in severe consequences."
---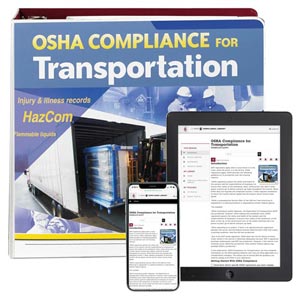 J. J. Keller's OSHA Compliance for Transportation Manual is designed specifically for the transportation industry to aid in OSHA compliance.
---
J. J. Keller's FREE Workplace SafetyClicks™ email newsletter brings quick-read workplace safety and compliance news right to your email box.