Electronic submission date for Injury and Illness data just around the corner
Posted April 26, 2017
OSHA's July 1, 2017, deadline for the electronic submission of injury and illness data is rapidly approaching. The Agency's May 2016 final rule to Improve Tracking of Workplace Injuries and Illnesses requires employers with 250 or more employees in a single establishment to submit their OSHA 300 Log, 300-A Summary, and 301 Incident reports electronically to OSHA. This year, these employers will only submit their 300-A Summary information.
The rule also calls for employers with 20-249 employees in a single establishment, in certain industries with historically high rates of occupational injuries and illnesses, to submit their 300-A Summary information electronically to OSHA. OSHA has published a list of those industries by NAICS code.
OSHA will make this employer-specific injury and illness information public and searchable on its website, minus personal information.
However, even though OSHA has established the portal that it will use to accept the electronic data from employers, the Agency says it is not currently accepting that data. And that is because OSHA is awaiting the outcome of court challenges to the rule.
The rule has been contested by several industry groups. One case before a federal court in Oklahoma seeks to overturn the electronic reporting rule to keep OSHA from publishing injury and illness recordkeeping data on its website. That case is currently on hold pending the outcome of another lawsuit.
That lawsuit is the one before a Texas federal court which seeks to overturn the entire rule because of its "anti-retaliation" provisions, which prohibit employers from taking action against employees who report work-related injuries or illnesses. The employer groups believe OSHA is overstepping its authority by imposing boundaries on workplace incentive programs, disciplinary programs, and post-accident drug testing.
The Texas court set a July 5, 2017, deadline (after the July 1 submission date in the rule) for attorneys on both sides of the issue to present a preliminary summary judgment briefing schedule.
Whichever way the courts rule in these cases, the July electronic submission deadline is still in place, even though OSHA is not accepting the data. Obviously, OSHA will either need to begin the data collection process or push back the compliance deadline.
---
The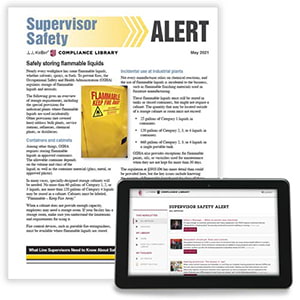 J. J. Keller® Supervisor Safety Alert newsletter addresses key safety-related issues affecting supervisors and their employees.
---
J. J. Keller's FREE Workplace SafetyClicks™ email newsletter brings quick-read workplace safety and compliance news right to your email box.