EPA still reconsidering chemical risk rule
Posted April 5, 2017
An April 3, 2017, proposed rule would again delay the effective date of amendments to EPA's Risk Management Program (RMP) regulations. In January, EPA published the final RMP Amendments Rule, but on March 16, 2017, the agency published a stay and delay of the effective date to June 19, 2017.
The April 3 delay further pushes back the effective date of the RMP rule until February 19, 2019. EPA says this gives it more time to deliberate on petitions to reconsider the final rule and to take further regulatory action, which could include proposing and finalizing a rule to revise the RMP amendments.
EPA will hold a public meeting on April 19, 2017, in Washington DC to discuss the proposal. Written comments must be received by May 19, 2017.
EPA's RMP rule applies to facilities that are subject to chemical accident prevention requirements under the Clean Air Act, including facilities that have more than a threshold quantity of a regulated substance in a process. The January 2017 RMP Amendments came about in response to Executive Order 13650 directing federal agencies to improve chemical facility safety and security. The amendments were intended to:
Prevent catastrophic accidents by improving accident prevention program requirements,
Enhance emergency preparedness to ensure coordination between facilities and local communities,
Expand public access to RMR facility information, and
Improve third-party audits and RMP facilities.
However, a January 20, 2017, White House memo directed federal agencies to temporarily delay the effective dates of final rules that had not yet taken effect to allow the new administration time for review. The memo also told agency heads to consider delaying the final rules even further, although doing so would require publishing proposed rules and accepting public comments.
---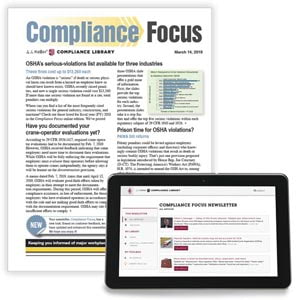 J. J. Keller's Compliance Focus helps you stay on top of critical regulatory developments from: DOT, OSHA, EPA, DOL, MSHA, EEOC, DHS and other agencies.
---
J. J. Keller's FREE Workplace SafetyClicks™ email newsletter brings quick-read workplace safety and compliance news right to your email box.