California asks EPA to improve railyard air
Posted April 19, 2017
California's Air Resources Board (CARB) asked federal EPA to work toward setting more stringent air emission standards for locomotives. According to CARB, the action is needed to improve the air quality in "high-risk" communities in and near the nation's railyards. CARB wants EPA to respond to its request by this summer.
In its formal petition for an EPA rulemaking, CARB pointed out that recent studies show there are significant diesel exposure disparities by race and income among residents living near most of the major railyards in the state.
CARB wants the nation to move toward zero- or near-zero emission locomotives. The Locomotive Petition seeks the amendment of emissions standards for newly built locomotives and locomotive engines and lower emission standards for remanufactured locomotives and engines.
According to the Board, the proposed emission standards would cut toxic emissions by 85 percent for diesel particulate matter (PM) and 66 percent for oxides of nitrogen (NOx) below current levels. In addition, new locomotives would have some zero-emission mile capability.
Not only would reducing locomotive-related emissions benefit disadvantaged communities in California, CARB says the new generation of locomotives would also offer fuel savings to the railroad industry. Other benefits of transitioning to cleaner, more efficient locomotives would include more clean tech and industrial jobs, along with a boost for U.S. manufacturers competing in the global marketplace to meet a growing demand for cleaner, low-emissions trains overseas.
CARB acknowledges work that has already been done to clean up emissions from the nation's freight delivery network. This work includes national locomotive emissions and diesel fuel standards, CARB agreements with railroads, California emission standards for drayage trucks and cargo equipment, and private and public investments in cleaner equipment. However, CARB insists that EPA action requiring a transition to zero- and near-zero emission locomotives is necessary.
---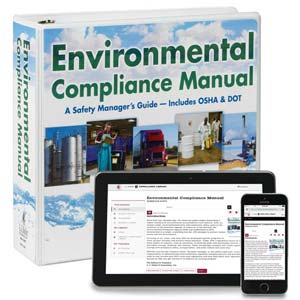 J. J. Keller's Environmental Compliance Manual is packed with easy-to-understand information on regulations, environmental issues and compliance.
---
J. J. Keller's FREE Workplace SafetyClicks™ email newsletter brings quick-read workplace safety and compliance news right to your email box.