OSHA launches National Emphasis Program to protect high-risk workers from COVID-19 hazards
Posted March 19, 2021
In response to President Biden's executive order on protecting worker health and safety, OSHA has launched a National Emphasis Program (NEP) focusing its enforcement efforts on companies that put the largest number of workers at serious risk of contracting COVID-19. The program also prioritizes employers that retaliate against workers who complain about unsafe or unhealthful conditions.
OSHA says NEP inspections will enhance the agency's previous COVID-19 enforcement efforts and will include some follow-up inspections of worksites inspected in 2020. The program will remain in effect for up to one year from its issuance date, though OSHA has the flexibility to amend or cancel the program as the pandemic subsides.
In a related action, OSHA has also updated its Interim Enforcement Response Plan to prioritize the use of on-site workplace inspections where practical, or a combination of on-site and remote methods. OSHA says it will only use remote-only inspections if it determines that on-site inspections cannot be performed safely. On March 18, OSHA will rescind the May 26, 2020, memorandum on this topic and the new guidance will go into and remain in effect until further notice.
This article was written by Rachel Krubsack of J. J. Keller & Associates, Inc.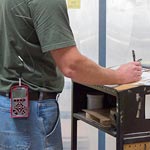 Looking for more on workplace safety?
Get the information and products you need to stay on top of industry changes and comply with regs.