OSHA encourages participation in National Safety Stand-Down to Prevent Falls in Construction
Posted March 5, 2021
May 3-7 marks the eighth annual National Safety Stand-Down to Prevent Falls in Construction. Fatalities caused by falls from elevation continue to be a leading cause of death for construction employees, accounting for 320 of the 1,008 construction fatalities recorded in 2018. The National Safety Stand-Down raises fall hazard awareness across the U.S. in an effort to stop fall fatalities and injuries.
The stand-down is a voluntary event for employers to talk to employees about safety. Any workplace can hold a stand-down by taking a break to focus on fall hazards and to reinforce the importance of fall prevention.
Employers of companies not exposed to fall hazards can use this opportunity to have a conversation with employees about the other job hazards they face, protective methods, and the company's safety policies and goals. It can also be an opportunity for employees to talk to management about fall and other job hazards they see.
This article was written by Rachel Krubsack of J. J. Keller & Associates, Inc.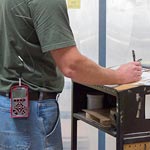 Looking for more on workplace safety?
Get the information and products you need to stay on top of industry changes and comply with regs.