EPA releases RY 2020 forms, directions for TRI reporters
Posted March 12, 2021
EPA has released Toxic Chemical Release Inventory (TRI) reporting forms and instructions for Reporting Year (RY) 2020. The materials provide help in determining if TRI reporting is required and how to fill out the forms. They also list any changes to the reporting requirements for the current reporting year. RY 2020 TRI reports are due to EPA by July 1, 2021.
New for RY 2020
New requirements for RY 2020 include:
PFAS reporting. Section 7321 of the National Defense Authorization Act for Fiscal Year 2020 added 172 Per- and Polyfluoroalkyl Substances to the TRI list of covered chemicals. EPA has listed the covered PFAS on its TRI-Listed Chemicals webpage.
Corrections to TRI reporting. A July 14, 2020 final rule updated identifiers, formulas, and names for certain TRI-listed chemicals and updated the text that identifies when the 0.1 percent de minimis concentration applies to certain chemicals. EPA also corrected a reference to an outdated OSHA regulatory citation. The rule corrected inaccuracies to certain Chemical Abstracts Service Registry Numbers and updated the formula for the cyanide compounds category.
Updated de minimis levels for four substances. New OSHA classifications as carcinogens have changed the de minimis levels for pyridine (110-86-1), methyl acrylate (96-33-3), quinoline (91-22-5), and vinylidene chloride (75-35-4) from 1.0% to 0.1%.
COVID-19
EPA notes that If your facility was impacted by COVID-19 (e.g., temporarily shut down, reduced production or operations) during 2020, your report may reflect different quantities than usual. However, TRI reporting regulations have not changed; facilities are still required to consider all chemical activities on-site during the calendar year in determining whether they must report to TRI.
Does TRI reporting apply to you?
EPA's TRI program tracks the management of certain toxic chemicals that may pose a threat to human health and the environment. TRI reporting is required for owners and operators of facilities that:
Have 10 or more full-time employees or "employee equivalents" (i.e., a total of 20,000 hours or greater);
Are included in an industry covered by the TRI program (These are typically facilities involved in larger manufacturing, metal mining, electric power generation, chemical manufacturing, and hazardous waste treatment.); and
Manufacture, process, or otherwise use any TRI-listed chemical in threshold quantities during the calendar year.

All federal facilities must report under EPCRA Section 313, regardless of their NAICS code, if the other applicability criteria are met.

This article was written by Lisa Neuberger of J. J. Keller & Associates, Inc.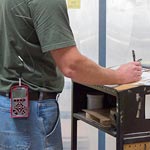 Looking for more on workplace safety?
Get the information and products you need to stay on top of industry changes and comply with regs.