COVID relief bill expands voluntary FFCRA leave
Posted March 15, 2021
With a stroke of the pen, many employees may take more leave under the Families First Coronavirus Response Act (FFCRA). President Biden signed the bill (HR 1319) into law on March 12, 2021. Employers are still not required to allow for the leave, but they may do so and claim related tax credits.
The law makes some changes to the FFCRA provisions:
More qualifying reasons: Employees may take the FFCRA leave for the following additional reasons:
Getting the vaccine and taking time off if not feeling well because of the vaccine.
Seeking or awaiting the results of a diagnostic test for, or a medical diagnosis of, COVID–19 and the employee has been exposed to COVID–19.
The employer requested a COVID-19 test or diagnosis.
Higher pay limits: The pay limits increased from $10,000 to $12,000 total per employee for family leave wages.
Extended duration: The leave provisions apply through 9/30/21. They were otherwise scheduled to expire 3/31/21.
New batch of leave: The law resets an employee's entitlement for leave. Even if an employee took FFCRA leave in the past, as of April 1, 2021, they have a new allotment of leave for both the 80 hours of emergency paid sick leave and the additional 10 weeks of expanded family and medical leave.
Nondiscrimination: Employers may not take the tax credits if they discriminate in favor of highly compensated employees, full-time employees, or those with greater seniority.
Some things did not change:
Covered employers: The law still applies only to private employers with fewer than 500 employees and all public employers. While other employers may allow for leave as they see fit, they may not claim the credits.
Tax credit allowance: Employers who provide the FFCRA may still claim 100 percent of the credit for the leave.
Amount of leave: Employees may still take up to 80 hours of emergency paid sick leave and up to 12 weeks of expanded family and medical leave.
Given these changes, if you wish to provide the FFCRA leave or continue providing the leave, you should review and update any related policies, notices, and forms.
We expect the Department of Labor will provide guidance. Stay tuned!
This article was written by Darlene Clabault of J. J. Keller & Associates, Inc.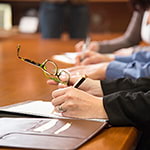 Looking for more on HR compliance?
Get the information and products you need to stay on top of industry changes and comply with regs.