When a 100% healed policy costs $2 million
Posted March 3, 2020
Employers generally expect their employees to perform their job tasks, which makes perfect sense, but some employers expect employees to have no restrictions — to be 100% capable of performing all their tasks. This would apply even after returning to work after time off for a medical condition – the employees must be 100% healed. For many employees, however, being 100% healed is rather impossible.
One company leaned that the Equal Employment Opportunity Commission (EEOC), which enforces the employment provisions of the Americans with Disabilities Act (ADA), frowns upon such 100% policies, and paid a hefty $2 million in a settlement with the agency. The EEOC filed a lawsuit against the company, arguing that it had policies requiring employees to perform 100% of job duties without restriction, accommodation, or engaging in the interactive process. The EEOC further charged that the company discharged employees with disabilities pursuant to inflexible leave policies.
The settlement involved more than money. The company also agreed to retain an external equal employment opportunity monitor to review and revise its policies and procedures regarding ADA compliance and to ensure that the company engages in the interactive process and provides reasonable accommodations. The company also agreed to provide training and to designate coordinators to handle disability accommodation requests and disability discrim­ination complaints.
Under the ADA, when employees request a workplace change due to a medical condition, employers are to meet with them to identify an accommodation that will allow the employee to perform the job's essential functions. Such a workplace change could be a medical restriction, a request for time off, or adjustment to a company policy, just to name a few. The goal is to identify barriers between the employee's limitations in relation to the job's essential functions, then break those barriers down. Policies that side-step these requirements are at risk of a claim.
Some employers might also have policies that provide a fixed amount of leave, perhaps six months, and if employees need more leave than the policy allows, they risk termination. If, for example, an employee needed two weeks beyond what a six-month leave policy includes, that employee could have a disability claim if he or she were to be terminated because of the two extra weeks of leave.
Therefore, employers should review their disability accommodation policies and practices to ensure they do not require employees to be 100% healed, and that leave policies are not inflexible, to help avoid multi-million-dollar claims.
EEOC v. Prestige Care, Inc. et al., Case No. 1:17-cv-01299-AWI-SAB, February 20, 2020.
This article was written by Darlene M. Clabault, SHRM-CP, PHR, CLMS, of J. J. Keller & Associates, Inc.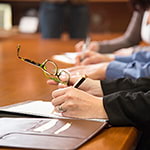 Looking for more on HR compliance?
Get the information and products you need to stay on top of industry changes and comply with regs.