Senate begins looking at COVID-19 response legislation, vote possible on Wednesday
Posted March 19, 2020
According to some sources, a Senate vote on the Families First Coronavirus Response Act may come as early as today (3/18/2020), as another economic stimulus related to the COVID-19 outbreak is also making headlines.
Senate Majority Leader Mitch McConnell indicated that the House bill may be just the beginning, but that the Senate will not adjourn until it has passed legislation beyond what the House passed.
Some Senators talked with Treasury Secretary Mnuchin to further legislation that will address three priorities:
Providing direct assistance for employees and family members,
Securing the economy, and
Supporting the healthcare professionals.
Some Senators indicated that the House's effort to mandate that small businesses provide new employee benefits may be harmful without a broader package with business relief. Other opponents balk at the one-size-fits-all approach to employee leave, as it would cause many employees to fall through the cracks.
Still other Senators believe a vote should not be delayed, and that the third iteration of the measure should include expanded employee leave. In light of that, yesterday, Senator Patty Murray introduced a bill (S3513) that would provide paid sick time and paid leave. Text of that measure has not yet been released.
Under the bill passed by the House, employers would be required to provide leave, some of it paid. The leave provisions would:
Apply to employers with 500 or fewer employees and government employers,
Be effective 15 days after the Act is enacted,
Expire on December 31, 2020
Include a posting requirement.
The House's coronavirus legislation includes two parts related to employee leave: The Emergency Family and Medical Leave Act and Emergency Paid Sick Leave Act. It expands FMLA coverage and eligibility and the definition of family members and provides for paid sick leave. Both parts of the act expire at the end of the year.
We will communicate details about the Senate's version of the bill(s) as they become available.
This article was written by Darlene M. Clabault, SHRM-CP, PHR, CLMS, of J. J. Keller & Associates, Inc.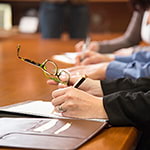 Looking for more on HR compliance?
Get the information and products you need to stay on top of industry changes and comply with regs.