New COVID-19 response bill fast-tracking through Congress
Posted March 17, 2020
On March 11, the House introduced the Families First Coronavirus Response Act (HR 6201). On Saturday, March 14, the bill passed the House. It now goes to the Senate.
The 110-page passed bill covers multiple provisions, including providing paid leave and occupational protections. The measure would also provide for enhanced unemployment benefits and free COVID-19 screening.
Paid sick leave
The bill would require employers to provide paid leave on an emergency basis. Details include the following:
Employees may take up to 14 days of paid sick leave immediately during a public health emergency.
If an employer has a paid leave policy that meets the law's requirements, it need not provide more paid sick time.
A mandatory posting requirement is included in the measure. The Secretary of Labor will make a model notice available seven days after the legislation is enacted.
FMLA expansion
The bill would amend the federal Family and Medical Leave Act to require employers to provide FMLA leave to employees who have worked at least 30 days for outbreak-related reasons. Details of the leave include the following:
Reasons for leave would be related to the COVID-19 outbreak such as to comply with a recommendation or order that the employee's at work would jeopardize the health of others because the employee has been exposed to or has symptoms of the disease and the employee is unable to both perform the job and comply with such recommendation or order. Reasons would also include caring for a family member exposed or with symptoms, or because of a school closing.
Family members expanded to include grandparents, siblings, next of kin, etc.
Employees may elect to use accrued paid time off, but employers may not require it.
What's next
It is possible that the Senate will make significant changes to the act. A Senate vote may come early this week, and Senate Majority Leader Mitch McConnell indicated that the Senate has already begun discussions. We will continue to monitor the situation and communicate developments as they become available.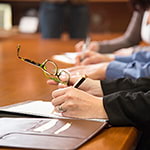 Looking for more on HR compliance?
Get the information and products you need to stay on top of industry changes and comply with regs.