Proposed rule increases overtime salary threshold; no posting change so far
Posted March 8, 2019
A proposed rule announced March 7 by the Department of Labor (DOL) looks to increase the minimum salary level for workers who are exempt from overtime, and at this time there's no indication that it will bring a mandatory posting change.
That could change, however, if the DOL decides to revise the Fair Labor Standards Act (FLSA) poster in light of the regulatory changes.
The law calls for all employers to conspicuously display a poster explaining the FLSA "as prescribed by the Wage and Hour Division." The DOL's Wage and Hour Division could update the posting text to explain the changes brought by the rule, and this would bring a mandatory posting change.
What's on the poster?
The FLSA poster currently provides general information on overtime, noting that overtime pay is at least 1½ times the regular rate of pay for all hours worked over 40 in a week. It also states that certain occupations and establishments are exempt from the minimum wage, and/or overtime provisions.
These general requirements will not change under the proposed rule. The poster does not delve into the details of the overtime exemption, and it's these details that the proposed rule seeks to change.
What's the proposed change?
The proposed rule would increase the overtime salary threshold from $455 to $649 per week (or from $23,660 to $35,308 annually).
An employee making less than this weekly amount would be eligible for overtime pay. An employee who makes at least this amount, and who has qualifying job duties, could be exempt from overtime.
The proposed rule also looks to:
Increase the total compensation requirement for highly compensated employees to $147,414 annually, up from $100,000.
Allow employers to use nondiscretionary bonuses and incentive payments (including commissions) that are paid annually or more frequently to satisfy up to 10 percent of the salary level.
The proposed rule does not make any changes to the duties test, which are the job responsibilities an employee must have to be exempt from overtime.
Not final yet
It is possible that the final version of the overtime exemption rule will vary from the proposed version. The DOL has submitted the proposed rule to the Office of the Federal Register, and after it is published the public will have 60 days to provide comments on it.
A final rule on overtime exemption will be published after the DOL considers comments.
J. J. Keller & Associates, Inc., will continue to monitor the changes and will automatically send revised posters to Update Service customers if a mandatory posting change occurs.
---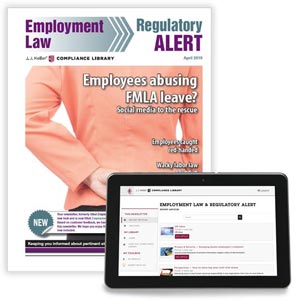 J. J. Keller's Employment Law Today newsletter explains why you need to care, what you need to do and how your business could be affected by HR industry news.
---
J. J. Keller's FREE HR SafetyClicks™ email newsletter brings quick-read safety and compliance news right to your email box.