Federal budget proposal's effects on HR
Posted March 15, 2019
The President's budget proposal, which would provide full-year funding for fiscal year 2019 through September 30, 2019, for projects and activities of all Federal Government agencies and programs not yet included in enacted appropriations bills, could affect HR-related activities. In addition to mandatory, nationwide use of the E-Verify system, the proposed budget includes the following:
Wages: $233 million for the Department of Labor's Wage and Hour Division to protect the minimum standards for wages and working conditions in U.S. workplaces, a $3.6 million increase over FY 2019, to improve compliance assistance and ensure workers receive fair wages.
Paid parental leave: New parents (mothers and fathers) would receive at least six weeks of paid family leave to help balance the competing demands of both work and family. The leave would be available to adoptive parents, as well. The proposal will allow states to establish programs most appropriate for their workforce and economy.
Health plans: An increase of $10 million to help employers and self-employed workers form associations and obtain health coverage in large group markets with more bargaining power. Allow employers to offer health reimbursement arrangements to employees for purchasing individual market coverage
H1-B visas: Double the American Competitiveness and Workforce Improvement Act fee for the H-1B program, using the increased revenue to expand apprenticeships in industries such as advanced manufacturing, information technology, and health care.
Pensions: Add new premiums to the Pension Benefit Guaranty Corporation's multiemployer program, raising about $18 billion in premiums over a 10-year window. Single employer plans would have premiums rebalanced. The goal is to have the program remain solvent, as it is at risk of insolvency by 2025.
Union integrity: $49 million for the Office of Labor-Management Standards to administer safeguards for labor union democracy, including a funding increase of $7 million that will strengthen protections for union members by supporting more audits and investigations.
Apprenticeships: $160 million in apprenticeships to fill family-sustaining careers in a job market with a record number of open jobs and create new opportunities in industries where apprenticeship is underutilized.
This article was written by Darlene M. Clabault, SHRM-CP, PHR, CLMS, of J. J. Keller & Associates, Inc.
---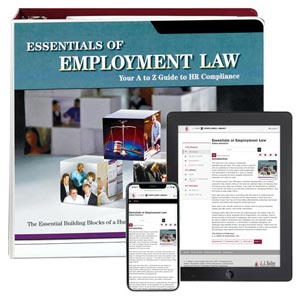 J. J. Keller's Essentials of Employment Law Manual covers more than 100 vital HR topics, including FMLA, ADA, HIPAA, FLSA, COBRA and more.
---
J. J. Keller's FREE HR SafetyClicks™ email newsletter brings quick-read safety and compliance news right to your email box.