FMCSA amends entry-level driver training regulations
Posted March 6, 2019
The Federal Motor Carrier Safety Administration (FMCSA) announced on Tuesday, March 5, a final rule streamlining the process to upgrade from a Class B to Class A commercial driver's license (CDL).
Adoption of the Class A CDL classroom instruction upgrade curriculum will save driver trainees and motor carriers $18 million annually, according to FMCSA.
The ruling amends entry-level driver training (ELDT) regulations published on December 8, 2016. The ELDT rule required the same level of classroom training for individuals obtaining a CDL for the first time as for those who already hold a Class B CDL and are upgrading to a Class A CDL.
FMCSA said that because Class B CDL holders have prior training or experience, they should not be required to obtain the same level of training as individuals who have never held a CDL. FMCSA said the change will maintain the same level of safety established by the 2016 ELDT rule.
More than 11,000 driver-trainees are expected to benefit annually from the rule change and see an average reduction of 27 hours in time spent in theory training.
The ruling applies only to Class B CDL holders and does not change behind-the-wheel range and public road training requirements established in the 2016 ELDT rule. All driver-trainees, including those who hold a Class B CDL, must show proficiency in behind-the-wheel curriculum in a Group A vehicle.
The compliance date for this amendment is February 7, 2020.
---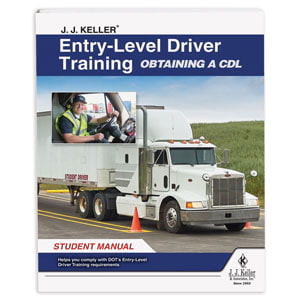 J. J. Keller's Entry-Level Driver Training Manual: Obtaining a CDL teaches students the basics of safe driving techniques and complies with FMCSA's new entry-level driver training rule.
---
J. J. Keller's FREE Transportation SafetyClicks™ email newsletter brings quick-read safety and compliance news right to your email box.
Sign up to receive Transport SafetyClicks™.