EPA publishes list of 40 chemicals for risk evaluation
Posted March 26, 2019
EPA recently published a list of 40 chemicals to prioritize for risk evaluation under the Toxic Substances Control Act (TSCA). TSCA requires EPA to publish the list to begin the prioritization process to designate 20 chemicals as "high priority" for subsequent risk evaluation and to designate 20 chemicals as "low priority," meaning further risk evaluation is not warranted at this time.
One of the chemicals identified for high-priority evaluation is formaldehyde, a chemical that has been studied by EPA's Integrated Risk Information System (IRIS) program for many years.
EPA says that when prioritization is complete, chemicals designated as high priority will begin a 3-year risk evaluation process to determine if the chemical, under the conditions of use, presents an unreasonable risk to human health and the environment.
The 20 high priority candidate chemicals include seven chlorinated solvents, six phthalates, four flame retardants, formaldehyde, a fragrance additive, and a polymer pre-curser. EPA says it has received a manufacturer request for a risk evaluation of two additional phthalates and is currently determining whether the request contains the minimum needed elements to proceed under EPA's regulations. If complete, EPA has 15 days to provide notice of such a request.
The 20 low priority candidate chemicals were selected from EPA's Safer Chemicals Ingredients List, which includes chemicals that have been evaluated and determined to meet the Agency's safer choice criteria.
The list was published in the March 21 Federal Register and comments must be received on or before June 19, 2019. Search for docket number EPA-HQ-OPPT-2019-0131 at the Federal eRulemaking Portal.
---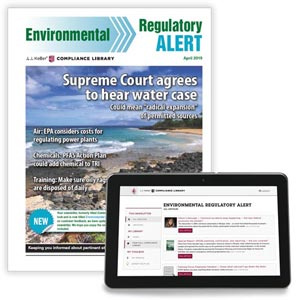 J. J. Keller's Environmental Regulatory Alert Newsletter helps you stay on top of the latest environmental enforcement issues.
---
J. J. Keller's FREE Workplace SafetyClicks™ email newsletter brings quick-read safety and compliance news right to your email box.
Sign up to receive Workplace SafetyClicks™.