Washington state bans the box for private employers
Posted March 21, 2018
Employers in Washington state must now determine whether an individual is otherwise qualified for a job before asking any questions about arrests or convictions, thanks to the state's new Fair Chance Act. Signed into law by Governor Jay Inslee on March 13, 2018, the law affects private and public employers of all sizes.
Ban the box laws (named after the checkbox that job applicants are often asked to mark if they have previous convictions) have gained popularity in recent years, with 31 states and more than 150 cities passing similar laws for public or private employers. With the Fair Chance Act, Washington becomes the 11th state to fully ban the practice statewide.
The law also prohibits employers from categorically excluding applicants with criminal histories from employment. Exceptions do exist for some positions for which a specific type of conviction would automatically disqualify the applicant per law, such as those who will:
Have unsupervised access to children or vulnerable adults;
Work in the financial industry and are required to provide criminal histories under state or federal law; or
Be employed in certain capacities by law enforcement or criminal justice agencies.
The Washington Legislature must approve funding for the Fair Chance Act by June 30, 2018, or it will be considered null and void. The Act also states that local laws providing additional protections to applicants take precedence over the state law.
This article was written by Ann Potratz of J. J. Keller & Associates, Inc.
---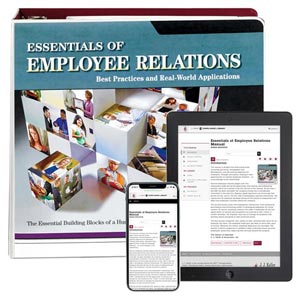 J. J. Keller's Essentials of Employee Relations Manual provides critical HR best practice tips and real-world applications in one convenient resource.
---
J. J. Keller's FREE HRClicks™ email newsletter brings quick-read human resources-related news right to your email inbox.