Spring thaw may create a roller coaster ride for your trucks
Posted March 7, 2018
Spring weather often creates driving challenges. Specifically, the change in ground temperature can damage roads and vehicles and result in "roller coaster" rides from "wavy roads."
Consequently, motor carriers need to monitor the many state and provincial spring weight restrictions or risk damage to the road and/or the rig.
Be ready for an alternate route
In order to preserve the integrity of the roadways, many states impose seasonal weight restrictions as early as late February and some lasting into May.
As drivers travel through regions that are experiencing spring thaws, they need to watch for posted signs indicating allowable weights. Signs may also indicate a reduced speed limit.
Trip planning may involve visiting some state websites to know if a specific highway is accessible to your vehicles. In addition, if a driver comes upon a weight restriction, he or she will need to find an alternative route, possibly contacting dispatch for assistance.
To ignore postings may result in more than just fines. It may result in damage to the roads, your vehicle, and/or cargo, and could result in an accident if the roadway is difficult to maneuver.
---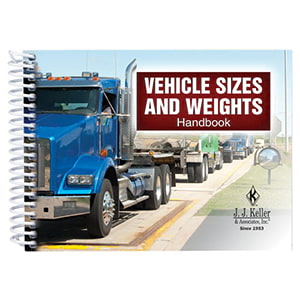 J. J. Keller's Vehicle Sizes and Weights Handbook features an overview of tractor-trailer sizes and weights compliance requirements for all 50 states and Canada.
---
J. J. Keller's FREE Transportation SafetyClicks™ email newsletter brings quick-read safety and compliance news right to your email box.