OSHA partners with EPA, DHS to develop new chemical communication protocols
Posted March 23, 2018
According to the office of Charles E. Schumer (D-NY), OSHA will join with the Environmental Protection Agency and Department of Homeland Security to create new protocols requiring notifications and coordination with local governments and emergency responders when a company is cited for serious violations. The push for the new policy comes after a fatal chemical explosion and fire at a New York cosmetic factory.
These notifications would serve to help local emergency responders better prepare for and prevent chemical emergencies in their jurisdictions.
At the behest of Schumer, the three federal agencies have formed a Chemical Facility Security and Safety Working Group to coordinate strategies across the agencies and state and local governments. Schumer wants immediate improvement of OSHA's communication systems to local municipalities and emergency responders. Specifically, the Working Group will address the lack of communication with local first responders, safety and training agreements, and information sharing about all relevant agencies when a local company is cited for serious violations, such as the reported mishandling of flammable liquids.
The Working Group is tasked with:
Sharing information with first responders to enhance their ability to safely and effectively plan for and respond to incidents in their jurisdictions;
Developing tools, training, and resources to strengthen State Emergency Response Commissions and Local Emergency Planning Committees;
Coordinating with agencies beyond OSHA, EPA, and DHS, by working with the U.S. Department of Justice, the U.S. Department of Transportation, and the Food and Drug Administration, as appropriate, to address incidents involving hazardous materials and the effects these incidents have on workers and communities;
Coordinating information sharing with federal agencies, states, local and tribal governments, and private sector partners; and
Conducting and facilitating cross-training to raise awareness of other programs.
Schumer says that OSHA had cited the cosmetics factory for improperly storing and grounding flammable and highly combustible liquids. In addition, the serious citations were for repeated violations. Schumer stated that OSHA needs to "take a hard look at how it handled enforcement" in this case.
---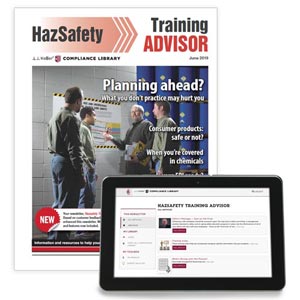 J. J. Keller's HazSafety Training Advisor helps employees understand regs and best practices related to Hazmat, HazCom, HazWaste, and HAZWOPER.
---
J. J. Keller's FREE Workplace SafetyClicks™ email newsletter brings quick-read workplace safety and compliance news right to your email box.