Loud noise plays a role in high blood pressure, cholesterol: NIOSH
Posted March 27, 2018
NIOSH researchers are pointing the finger at loud noise in the workplace as a culprit in high blood pressure and high cholesterol. According to a new NIOSH study published in the American Journal of Industrial Medicine, the adverse health conditions are more common among workers who have work-related noise exposures.
High blood pressure and cholesterol increase the risk for developing heart disease, the leading cause of death for men and women. With an estimated 22 million workers exposed to loud noise each year, NIOSH suggests workplace wellness programs that screen employees for high blood pressure and cholesterol should also target noise-exposed workers.
Using data from the 2014 National Health Survey, the researchers analyzed the association of occupational noise exposure and heart disease in U.S. industries. The analysis revealed:
25 percent of current workers had a history of work-related noise exposure.
14 percent of workers were exposed to workplace noise in the past year.
12 percent of current workers had hearing difficulty, 24 percent had high blood pressure, and 28 percent had high cholesterol. Of these cases, 58 percent, 14 percent, and 9 percent respectively can be attributed to occupational noise exposure.
The mining, construction, and manufacturing industries had the highest prevalence of workplace noise exposure;
Production; construction and extraction; and installation, maintenance, and repair were the occupations with the highest workplace noise exposures.
Study co-author Liz Masterson, Ph.D, asserts that more than five million cases of hearing difficulty among noise-exposed workers could potentially be prevented. The growing evidence linking high levels of noise in the workplace and workers developing high blood pressure and cholesterol suggests the potential to prevent these conditions if noise is reduced. She notes the importance of regularly screening workers for these conditions in the workplace or through a healthcare provider to enable interventions.
---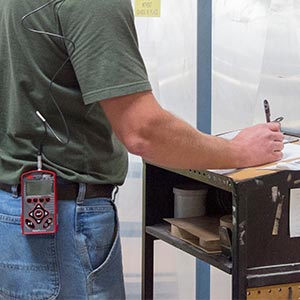 J. J. Keller® Industrial Hygiene & Safety Services provides a complete solution for minimizing workplace hazards that may result in injury or illness or affect the well-being of workers.
---
J. J. Keller's FREE Workplace SafetyClicks™ email newsletter brings quick-read workplace safety and compliance news right to your email box.