Government watchdog says EPA did not use flawed data to estimate methane emissions
Posted March 21, 2018
A new report from the Government Accountability Office (GAO) concludes EPA was correct in its estimates of methane emissions for setting New Source Performance Standards under the Clean Air Act for oil and gas producers. Methane is a potent greenhouse gas emitted from natural and industrial sources, including the oil and natural gas production industry.
The GAO conducted its review in response to a hotline complaint accusing the Agency of using the results from two flawed studies to estimate methane emissions and make policy decisions regarding oil and gas production. The complaint argued that the two methane emissions studies were flawed due to a malfunction in a measurement device called a Hi Flow Sampler.
Boiled down, the complaint alleges EPA used flawed data in estimating methane emissions for its annual Greenhouse Gas Inventory and in setting emissions limits for the 2016 New Source Performance Standards (NSPS) for the Oil and Natural Gas sector. The NSPS affects the availability of air permits for various industrial sectors and geographical areas.
The annual Greenhouse Gas Inventory reports EPA's official nationwide estimate for greenhouse gas emissions from all man-made sources, including those from oil and natural gas production. The Inventory uses a variety of data sources and emissions estimation methodologies, including emissions and activity data reported to EPA under the Greenhouse Gas Reporting Program (GHGRP). The GHGRP requires large emissions sources and fuel suppliers to calculate their greenhouse gas emissions and report this data to EPA.
The GAO reviewed the methods EPA uses to estimate methane emissions from oil and natural gas production, including whether it used results from the two studies in question and whether concerns about technical problems with the studies were identified, addressed, and resolved by EPA.
The GAO's conclusion
According to the GAO, EPA used its Greenhouse Gas Inventory development process to consider information related to the two studies and the Hi Flow Sampler. EPA staff requested expert and public feedback on specific aspects of the studies, how the data could potentially be used for the inventory, and potential problems associated with the Hi Flow Sampler.
In the end, the GAO says EPA did not make any methodological revisions to the Greenhouse Gas Inventory or to the GHGRP based on the two studies, and data from the studies was not used in the inventory. Further, EPA did not use any data from the studies to set the final 2016 New Source Performance Standards to limit methane emissions from the oil and natural gas industry.
---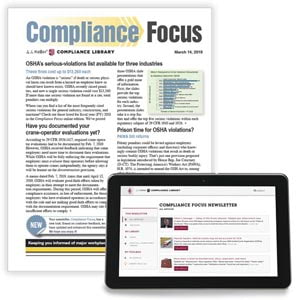 J. J. Keller's Compliance Focus helps you stay on top of critical regulatory developments from: DOT, OSHA, EPA, DOL, MSHA, EEOC, DHS and other agencies.
---
J. J. Keller's FREE Workplace SafetyClicks™ email newsletter brings quick-read workplace safety and compliance news right to your email box.