Final beryllium rule delayed until May 11, 2018
Posted March 6, 2018
A March 2 memorandum from Thomas Galassi, Director of OSHA's Directorate of Enforcement says no provisions of the January 9, 2017, final rule on Occupational Exposure to Beryllium may be enforced until May 11, 2018.
OSHA's 2017 final rule established new Permissible Exposure Limits (PEL) and Short-Term Exposure Limits (STEL), as well as several other ancillary provisions that apply to general industry, construction, and shipyard employers. The rule became effective on May 20, 2017. The compliance date for general industry employers was set for March 12, 2018, except for requirements for change rooms and showers, which commence on March 11, 2019. Requirements for engineering controls begin in 2020.
However, on June 27, 2017, OSHA proposed a rule to revoke the ancillary provisions in the construction and shipyard standards. In its notice of rulemaking, OSHA said it would not enforce the new construction and shipyard standards without further notice while the rulemaking was underway. OSHA also announced on its website that it would not enforce the ancillary provisions of those standards without further notice, but did not state whether it would enforce the PEL or STEL. The March 2, 2018, memo answered those questions. According to the new memo, the agency plans to enforce the general industry standard starting in May 11, 2018; but, for construction, the agency will only enforce the new PEL and STEL— not the ancillary provisions of the rule.
The reason for the delay impacting general industry is to allow OSHA more time for negotiations with several parties who have filed legal actions challenging the standard. Until May 11, if an employer fails to meet the new PEL or STEL, OSHA will inform the employer of the exposure levels and offer assistance to help the employer understand and comply with the rule.
---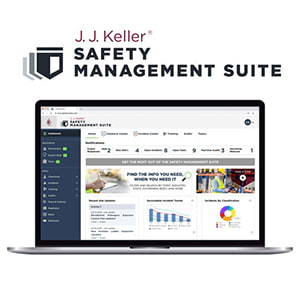 The J. J. Keller® Safety Management Suite, formerly KellerOnline®, provides safety professionals with the tools and applications to help drive performance, reduce risk, and ensure compliance.
---
J. J. Keller's FREE Workplace SafetyClicks™ email newsletter brings quick-read workplace safety and compliance news right to your email box.